Vietnam Chamber of Commerce and Industry builds capacity for officers to protect endangered wildlife species
Hanoi, Viet Nam, 17th July 2015 – Leaders and officers of the Vietnam Chamber of Commerce and Industry (VCCI) today pledged to play a leading role as "champions" of endangered wildlife species after their development of a detailed conservation Action Plan as part of a workshop held this week at Cuc Phuong, Viet Nam's oldest and largest national park.
---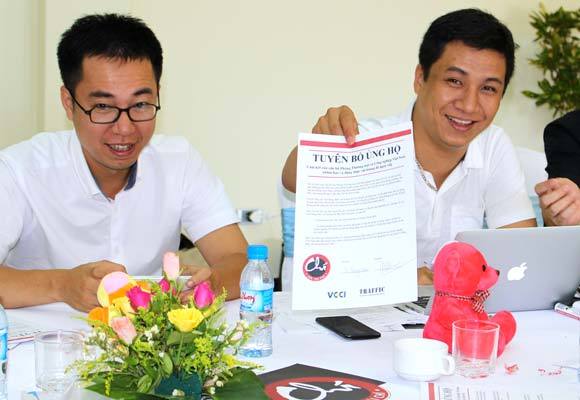 The workshop, run jointly by TRAFFIC and VCCI, trained 30 VCCI officers in social marketing and corporate social responsibility (CSR) to tackle illegal trade and consumption of wildlife in Viet Nam. 
Participants were given a hands-on opportunity to learn about some of Viet Nam's endangered and rare animals through fieldtrips to Cuc Phuong's Primate Rescue Center, Turtle Conservation Center and Botanical Garden. 
"This is a great opportunity for VCCI's officers from different departments to equip themselves with essential knowledge about CSR and social marketing," said Ms. Pham Thi Thu Hang, General Secretary of VCCI. "In fact, this knowledge has a close link with our daily activities as we are working on enterprise development. The workshop has provided us with tools to change behaviour, in order to reduce demand for rhino horn and other endangered wildlife species."
Following the workshop, participants created an Action Plan to use their training to deliver the messaging about CSR, wildlife protection and "chi" to VCCI members across the country. 
"'Chi,' or 'strength of will,' is a Vietnamese concept signifying the power that lies within," said Madelon Willemsen, Head of TRAFFIC's Office in Viet Nam. 
"By leading efforts to protect wildlife through CSR, VCCI officers and businesspeople across Viet Nam are showing their 'chi'—the 'chi' that has already earned them the respect and good fortune they have created for themselves, without the use of illegal wildlife products such as rhino horn."
Developed with funding from the Agence Française de Développement (AFD), this capacity building session was part of TRAFFIC and WWF's broader efforts to equip and inspire civil society organizations (CSOs) to take a lead in reducing demand for threatened wildlife products, especially rhino horn. 
Over the next two years, TRAFFIC and WWF will continue to support Vietnamese CSOs to capitalize on their important role in engaging consumer groups and corporate partners to protect threatened wildlife species. 
This workshop was carried out as part of VCCI and TRAFFIC's strategic memorandum of understanding (MOU) supporting the roll out of best practices in corporate ethics and consumer behavior change, as well as a zero tolerance approach towards illegal consumption of wildlife through CSR. 
Following the MOU's signing in April this year, VCCI and TRAFFIC have already held a bike ride in Da Nang to promote Chi and CSR and provided CSR and social marketing training for VCCI trainers, which has resulted in an additional 20 workshops for VCCI members helping spread the message about 'chi', CSR and wildlife protection.   
---
About VCCI
The Vietnam Chamber of Commerce and Industry (VCCI) is an organization that represents and protects legitimate benefits of business communities. VCCI has a network of branches, representing offices and members nationwide.