Vietnam Chamber of Commerce and Industry encourages social and environmentally responsible business practices
Quang Binh, Viet Nam, 15th June 2015—Vietnam Chamber of Commerce and Industry (VCCI) trainers begin a ripple effect today that will spread the principles of social and environmental responsibility to businesses across Viet Nam, with assistance from TRAFFIC. 
---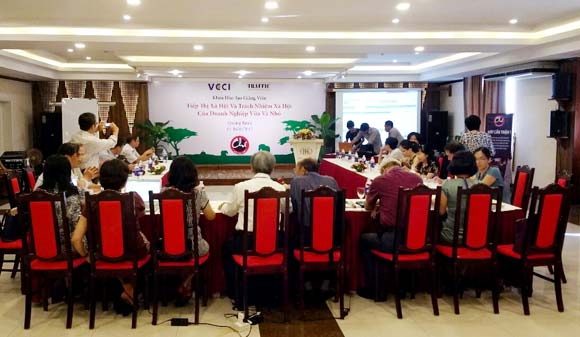 The trainers will receive guidance on promoting wildlife protection through corporate social responsibility (CSR) and social marketing at a two-day workshop. 
The workshop by TRAFFIC and VCCI will equip more than 30 of VCCI's senior trainers with knowledge and skills in social marketing and CSR relevant to small and medium-sized enterprises. It is expected that, through June 2016, trainers will integrate wildlife protection through CSR in more than 80 capacity building workshops for about 5,000 representatives from small and medium-sized enterprises nationwide.
Today's workshop will help trainers to understand their responsibility to protect endangered animals and develop an action plan together. To confirm their contribution to the ripple effect, trainers will sign a pledge declaring their commitment to being champions of wildlife protection by promoting CSR and taking a zero-tolerance approach to endangered species consumption, especially rhino horn. 
"Enterprises are paying more attention than ever to CSR to improve their competitive advantage. By enhancing CSR capacity and contributing to the protection of wildlife, the partnership between VCCI and TRAFFIC benefits a wide range of stakeholders: small and medium-sized enterprises, employees, customers, partners, and wild animals," said Ms. Le Thi Thu Thuy, Deputy Director of the Small and Medium-sized Enterprises Support Center, VCCI. "As Ambassadors of the programme, trainers and successful business leaders will disseminate this message throughout the business community." 
This training session is the first of a number of activities outlined in a strategic Memorandum of Understanding (MoU) between VCCI and TRAFFIC supporting the roll out of best practices in corporate ethics and consumer behaviour change, as well as a zero tolerance approach towards wildlife consumption, especially rhino horn, through CSR. Through enhancing capacity for Vietnamese businesses, this partnership contributes to global efforts to eradicate illegal wildlife trade and to ensure that the trade in wild plants and animals is not a threat to the conservation of nature.
"The world is at a critical point with many conservation crises, including the survival of wild rhinos," said Madelon Willemsen, Head of Office for TRAFFIC in Viet Nam. "Demand for rhino horn in Asia, including Viet Nam, is the main driver of the rhino poaching crisis in Africa. 
"By adopting a zero-tolerance approach to illegal wildlife consumption, Vietnamese businesses can have a real, positive impact on wildlife protection."
In addition to providing training sessions for small and medium-sized enterprises, VCCI's trainers will select and coach the five most active small and medium-sized enterprises to implement all CSR principles fully and effectively. These businesses will act as case studies to share and replicate their experience with other companies. 
TRAFFIC and VCCI are encouraging leaders, including influential business people, to address the rhino poaching crisis as part of TRAFFIC's "Strength of Will" campaign, which is based on the Vietnamese concept of "Chi," the power that lies within. The Chi campaign promotes the idea that success, masculinity and good luck flow from an individual's internal strength of character, not from a piece of horn.
---
About VCCI
The Vietnam Chamber of Commerce and Industry (VCCI) is an organization that represents and protects legitimate benefits of business communities. VCCI has a network of branches, representing offices and members nationwide.