'Catalysing Chinese consumers' choice to reduce the demand for illegal wildlife products
Together with the China Wildlife Conservation Association (CWCA), TRAFFIC has launched a set of Social Behaviour Change (SBC) training sessions to advise the Chinese public and private sectors on how they can help encourage responsible choices to reduce the global supply and demand of illegal wildlife products.
---
The demand for illegal wildlife products continues to perpetuate the trafficking of threatened species to countries across the globe, including China. Drawing on social and behavioural theories, the public and private sectors are being encouraged to develop strategies to prevent specific behaviours related to such trafficking.
"The Chinese government has made significant progress on curbing illegal wildlife demand through initiatives such as removing pangolins and other threatened species from the catalogue of TCM raw materials of their official pharmacopoeia of listed medicines in 2020. We believe the twin-track approach of supply and consumer demand reduction will help China better implement CITES and reiterate the focus on ecological civilisation, biological diversity, and sustainable development," said Ling XU, Director of TRAFFIC in China.
Building on experience in programmes like the Champions of Change project, TRAFFIC is working with companies to identify how best to shift buyer behaviours and motivations. Strategic messaging will encourage target audiences to make responsible choices that will benefit species, ecosystems, and even climate change mitigation, in line with the Chinese concept of 'Ecological Civilisation.'
Through the TRAFFIC China SBC toolkit*, organisations can explore how such social and behaviour change approaches can help ensure positive progress towards responsible consumption.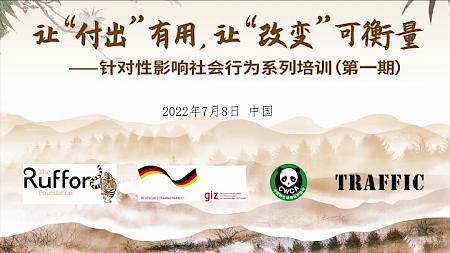 Earlier this month, a diverse range of businesses and organisations attended the first session of the China Social Behaviour Change (SBC) training series. At this event, TRAFFIC's Behaviour Change Programme Leader Gayle Burgess presented relevant theories for targeted SBC approaches, including insight and targeting, messaging and messengers, and repetition, adaptation and reward.
"The CWCA and TRAFFIC-led SBC training series will help bridge the gap with ensuring consumers refuse illegal wildlife products. Through multi-stakeholder partnerships and professional training, we can help government authorities and other NGOs to take an innovative approach to change the behaviour of illegal and unsustainable wildlife consumption," said YIN Feng, General Engineer of CWCA
The webinar stimulated a vibrant discussion on the priorities that must be met for successful adoption and first-hand experiences of some of the challenges in implementing SBC approaches in China.
"We experienced a lot of incomprehension, even attacks, when starting to convince the craft masters to stop using illegal wildlife materials, such as ivory until the SBC approach was applied. How to communicate from the angle of your target audience is very important," said Rui CHI, CEO of Wen Wan Tian Xia (WWTX), a significant artwork and collection e-commerce platform.
Rui CHI described the learnings from a previous initiative, Green Transformation, which provided a mechanism for change by preserving the culture and tradition of the carving industry while encouraging sustainable and traceable sourcing.
To share examples of SBC in action, Trinh Nguyen, Director of TRAFFIC's office in Viet Nam, revealed her experience implementing the 'Chi' campaign. Through public service announcements and other forms of communication, the campaign follows locally focused SBC communication to catalyse consumer action to combat wildlife demand in Viet Nam. For example, highlighting that person's true strength comes from within, not from a status symbol such as rhino horn.
TRAFFIC stands ready to support these sectors in carrying out the SBC approaches like those seen in Viet Nam to reduce the demand for illegal wildlife products in China and is set to host further webinars in the next few months.
---
Notes:
*This toolkit is open to all practitioners who are committed to the cause of biodiversity conservation. Please fill in the form at the bottom of this page to access the toolkit: trafficchina.org/sbc/
Further SBC information can be found: changewildlifeconsumers.org/
Acknowledgements
The China SBC Training Series has been made possible thanks to generous support from the Rufford Foundation and GIZ. 
---
About the Rufford Foundation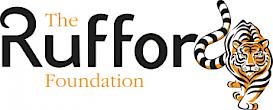 The Rufford Foundation is a UK registered charity which funds nature conservation projects across the developing world. To date the Foundation has awarded grants to over 4000 projects in 156 countries.
About GIZ
GIZ on behalf of the German Federal Ministry for Economic Cooperation and Development (BMZ) and the German Federal Ministry for the Environment, Nature Conservation and Nuclear Safety (BMUZ) supports international cooperation for sustainable development and international education work to shaping a future worth living around the world. www.giz.de