Da Nang Business Community shows "Strength of Will" in bike ride for wildlife protection
Da Nang, Viet Nam 27th June 2015—Over one hundred of Da Nang's business leaders rode through the main streets of the city Saturday as part of the Bike Ride by Da Nang Businesses to promote wildlife protection and celebrate the 40th anniversary of the South Liberation and National Reunification. 
---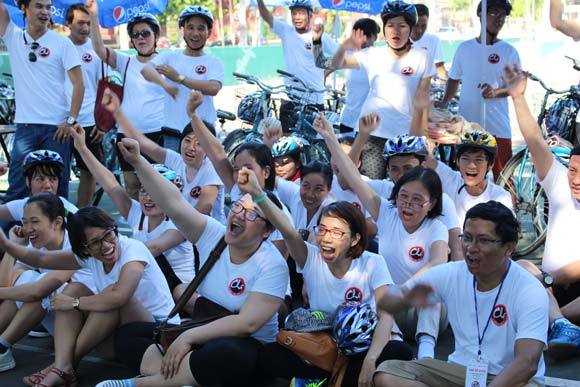 Organized jointly by the Vietnam Chamber of Commerce and Industry—Da Nang Branch (VCCI Da Nang), TRAFFIC, Da Nang Investment Promotion Center and FDI Da Nang Club, the bike ride helped support the nation-wide "Strength of Will" or "Chi" Campaign. 
The Campaign encourages business leaders to show their "Chi" through environmentally and socially responsible business practices and promotes the concept that success, respect and good fortune flow from an individual's internal strength of character (or "Chi") and not from a piece of rhino horn. 
Organized under "The Year for Culture and Urban Civilization" of the People's Committee of Da Nang City banner, the bike ride was a major cultural and tourist event for the Da Nang business community. 
"By incorporating wildlife protection into corporate social responsibility, the business community in Da Nang is taking advantage of its influence to lead the fight against illegal trade and consumption of endangered wildlife species," said Ms Truong Thi Kim Anh, Deputy Director of VCCI Da Nang.
In addition to promoting the role of Chi and corporate social responsibility (CSR) in wildlife protection, the bike ride also educated riders and the public about the effects of illegal wildlife trafficking and consumption.
"For me, the bike ride today is such a fantastic event. It has delivered a message about health, internal strength and community. What I have learned is that, as business leaders, we should use our internal strengths to develop our business and career, instead of external factors like rhino horn," said Mr Le Tan from Saigon Commercial Bank, Da Nang Branch, one of the participants in the bike ride.
Carrying images and social marketing messaging from the Chi Campaign, riders showed to the public their commitment towards protection of wildlife.
 
"Da Nang's business leaders know that success and respect come from their strength of character, which they have demonstrated today by taking part in this ride," said Ms. Madelon Willemsen, Head of TRAFFIC's office in Viet Nam. "By taking action for endangered species protection, they have become Chi Champions and national role models for CSR."
The Chi campagin was developed with funding from the UK Government's Illegal Wildlife Trade Challenge Fund, while Chi-branded activities within the campaign have been supported by a number of donors. 
---
About VCCI
The Vietnam Chamber of Commerce and Industry (VCCI) is an organization that represents and protects legitimate benefits of business communities. VCCI has a network of branches, representing offices and members nationwide.