Tourism industry in China says "no" to illegal wildlife trade
Beijing, China, 3rd March 2016, World Wildlife Day—The China Tourism Administration together with leading tourism companies and travel agencies today pledged zero tolerance towards illegal wildlife trade at a special event jointly convened by China's Convention on International Trade in Endangered Species of Wild Fauna and Flora Management Authority (CITES MA) and TRAFFIC. 
---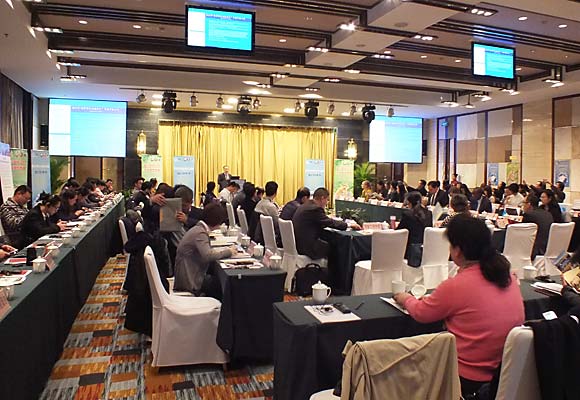 Representatives from the Ministry of Foreign Affairs, Ministry of Agriculture, Ministry of Public Security, the State Administration for Industry & Commerce, Customs, General Post Office, China Tourism Administration (CTA), State Forestry Administration, Forestry Police, State Food and Drug Administration, Chinese Traditional Medicine Administration, the embassies of USA, Germany, Zimbabwe, Lao PDR, South Africa and Kenya, UNEP, an EU delegation plus more than 30 leading tourism companies and travel agencies, the China Wildlife Conservation Association and domestic and international organizations, totaling over 130 people attended. 
The past decade has seen a steady increase in overseas travel by Chinese nationals. According to the China Tourism Administration, overseas trips have risen from over 80 million visitors (arrivals and departures) in 2012 to 120 million visitors (arrivals and departures) in 2015. Numbers of Chinese travelers to popular African destinations increased from 1 million in 2011 to over 1.52 million in 2014 while trips to Southeast Asia rose from 7.3 million in 2012 to 17 million in 2015. 
With the steady increase in overseas travel, there have been more frequent reports of smuggling of ivory and other endangered wildlife products from Africa and Southeast Asia involving tourists of Chinese origin. Initial investigations have shown that, besides those involved in intentional crime, up to one third of suspects still claim to be completely ignorant of international trade controls on ivory and other wildlife products. The engagement of the tourism industry and related services sectors, especially those offering tours to Africa and Southeast Asia, is therefore of huge significance in raising awareness of the existing legislation. 
"China Tourism Administration has been focusing on wildlife conservation as a top priority and compelling obligation," said Tang Bing, Director of the Supervision Division, China Tourism Administration. 
"We will further strengthen governance of the tourism sector's operations, improve training materials for tour guides, strengthen advocacy for those servicing the industry and for overseas travelers and include wildlife conservation as one of the tourism sector's assessment criteria for selection as an industry 2016 Civilized Tourism Champion."
10 key travel companies out of the 30 who offer trips to African destinations signed the pledge of zero tolerance towards illegal wildlife trade © TRAFFIC"TRAFFIC warmly welcomes today's commitment by tourism companies towards zero tolerance of illegal wildlife trade; it is a fine example of how the tourism sector can play an active role in combatting such trade," said Zhou Fei, Head of TRAFFIC's China Office.
"The tourism sector is now well-placed to help develop effective ways to reduce demand for products such as elephant ivory and rhino horns: 'Don't buy illegal wildlife products' is a pertinent message aimed at every Chinese overseas traveller." 
Zhou Fei, Head of TRAFFIC's China Office spoke about the previous successes and opportunities for future collaboration with the CITES MA ©TRAFFIC The public pledge was followed by a meeting aimed at travel agencies where TRAFFIC spoke about illegal trade in endangered species in relation to the tourism sector, the CITES MA spoke about CITES regulations and China's compliance and Customs officers spoke about law enforcement measures and cases involving Chinese travelers. Participants then discussed various ways to discourage overseas travelers from purchasing illegal wildlife products. 
Partnering with the tourism industry is one of a series of actions to counter illegal wildlife trade undertaken by TRAFFIC in close collaboration with the CITES MA and other government agencies in China through engaging key stakeholders and targeting consumers. 
Other initiatives include engagement with e-commerce companies, courier companies and the Traditional Chinese Medicine industry.
---