Chinese TCM industry says NO to illegal wildlife trade
Beijing, China, 15th October 2015—Representatives of leading traditional Chinese medicine (TCM) companies today renounced the use of endangered plants and animals protected by national legislation and CITES1 in medicinal products.
---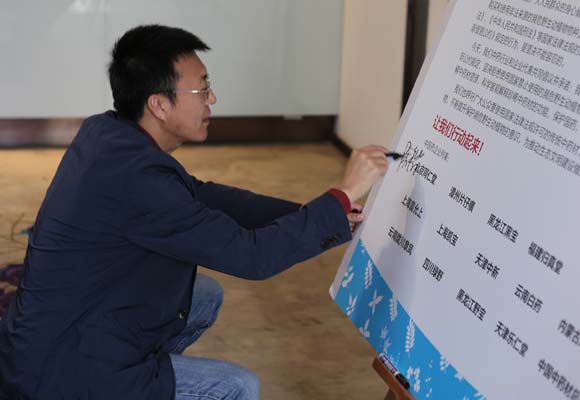 The pledge was made at an event in Beijing initiated by TRAFFIC in collaboration with the China Association of Traditional Chinese Medicine and China Wildlife Conservation Association. 
Some of the most famous TCM companies in China and worldwide were present including Tongrentang, Leiyunshang, Pianzaihuang, Yunnanbaiyao, Lerentang and China TCM Co. 
The leading companies' pledge follows earlier commitments made by the TCM sector in 2010 and 2013.
The use of products such as tiger bone, rhino horn, musk and saiga horn was formerly widespread in producing TCM medicines, including tiger bone wine, Angon Niuhuang Wan (for detoxifying and as an antipyretic), Liushen Wan (as an anti-inflammatory), Lingyang Qingfei San (for nourishing lungs and relieving a sore-throat). 
However, in May 1993, the State Council of the People's Republic of China banned the trade in rhinoceros horn, tiger bone and their medicinal derivatives in order to support international conservation efforts to address the threat posed by commercial trade to rhinoceroses and tigers. 
The ban included the removal of these items from the official pharmacopeia of China, and the cessation of all formal manufacture and commercial trade within China.
At today's event and speaking on behalf of the TCM companies present, Tongrentang, the world's leading TCM Company, confirmed they never purchase and sell TCM products made from wildlife from illegal sources and that any TCM company who breaks national legislation or international convention should be seriously punished.
According to China's Criminal Law, those who are engaged in the purchasing, transporting and trading of tiger products shall be sentenced to 5 years or more in jail. 
"We are delighted to hear leading Chinese TCM companies pledge zero tolerance towards illegal wildlife trade," said Zhou Fei, Head of TRAFFIC in China. 
"TCM has played and continues to play a very important role in protecting the health of Chinese citizens. Today's pledge sends a strong message that TCM companies are conscious of and serious about the conservation of endangered species."
Zhang Shanning, Director of China's CITES Management Authority, said: "Today's pledge is firm evidence of the TCM industry's commitment towards the Chinese government's efforts to protect endangered species." 
The Chinese TCM sector becomes the third major industry to join the alliance saying NO to illegal wildlife trade and support government and conservation efforts to protect endangered species. 
TRAFFIC has initiated similar events leading to commitments to avoid illegal wildlife products by the e-Commerce industry in October 2014 and for the logistics industry in March 2015.
---
Notes:
1 CITES is the Convention on International Trade in Endangered Species of Wild Fauna and Flora.
---