New identification guide to assist enforcement officers combat wildlife crime in the Golden Triangle
Update: A Chinese translation of the guide is also now available.
Petaling Jaya, Malaysia, 15th December 2020 — a new guide to identifying species will be launched to assist enforcement officers in determining wildlife openly sold in the markets of the Golden Triangle areas of Lao PDR, Myanmar and Thailand.
---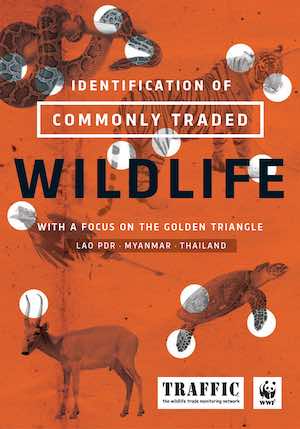 The 89-page guide, Identification of Commonly Traded Wildlife with a focus on the Golden Triangle, includes a variety of commonly traded species, the selection of which is based on TRAFFIC's surveys in the region's markets.  From pangolin scales, tiger bone glue, elephant skin beads, bear teeth and live turtles, it includes a wide range of mammals, birds and reptiles available to purchase in these markets as collectibles, pets, food and medicinal use.  
 
The guide helps officers to distinguish between one species and another, with images of how they might appear in trade. It features a range of images taken during TRAFFIC's market surveys conducted over the past 20 years, including some taken last year in six border locations across the three countries as part of efforts to understand and tackle wildlife crime in the Golden Triangle area.  
The Golden Triangle is ill-famed for its illegal wildlife trade as criminals take advantage of porous borders and willing buyers. Situated where Thailand, Myanmar and Lao PDR meet, the area is home to bustling local markets, casinos and shopping outlets that attract tourists from around the region. 
"We know that the identification of wildlife in markets can be very difficult, particularly when species are being sold as parts. The guide will provide an easy-to-use point of reference to assist enforcement officers to overcome this," said Claire Beastall, TRAFFIC's Training and Capacity Building Co-ordinator and lead author.
The guide has been produced as part of the Fighting Wildlife Trafficking in the Golden Triangle project funded by the United States Department of State, Bureau of International Narcotics and Law Enforcement Affairs (INL). The project is a joint effort by TRAFFIC and WWF, aimed to increase cross-border collaboration between enforcement agencies within and across the three countries in the fight against wildlife trafficking. 
Available in English, Laotian, Burmese and Thai, the guide will be printed and distributed to officers in all three countries working in the region.  
Alongside information on how to identify traded wildlife, the guide also provides information on the Convention on International Trade in Endangered Species of Wild Fauna and Flora (CITES) and its enforcement, including how to spot situations where fraudulent permits are being used and common smuggling techniques. Training workshops were also provided to more than 100 enforcement officers working in the region on trade regulation, the detection and investigation of wildlife crime. Species identification is a vital skill for officers, yet more than 80% of the officers who attended the workshops had never received such training.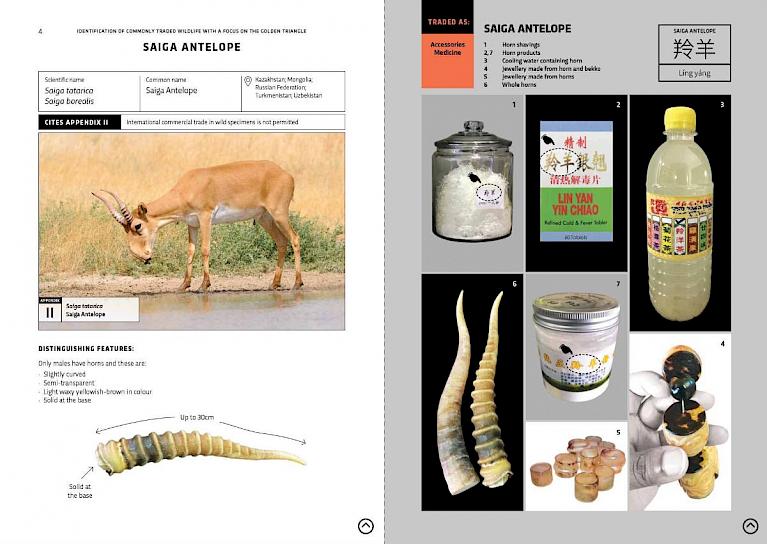 ---