Shoppers urged to support responsibly sourced wild plant products this Christmas by looking for FairWild label
Cambridge, UK, 15th December 2020—This festive season, consumers are being encouraged to use their purchasing power to ensure that our wellbeing and the livelihoods of some of the most impoverished and marginalised communities and ecosystems around the world are sustained during these difficult times.
---
"Wild plants are barely recognised in the marketplace, yet they appear in everything from tea and chocolates, to perfumes and aromatherapy oils," said Anastasiya Timoshyna, Senior Programme Co-ordinator of Sustainable Trade at TRAFFIC. "Instead of being grown in agricultural conditions, these ingredients are harvested from forests, mountains and other habitats all around the world and that's why FairWild certification is so important. The FairWild label offers assurance that the wild plant ingredients used in these products are sustainably sourced, enabling shoppers to make conscious and ethical decisions about what they are buying."
Wild plant ingredients include many aromatherapy oils, such as Jatamansi/Spikenard and Frankincense, Argan oil in cosmetic products, Shea butter in chocolate and cosmetics, Brazil nuts, Liquorice root in herbal teas, and many more. 
Most consumers, and many companies, are unaware that between 60%–90% of medicinal and aromatic plants come from the wild, some harvested with detrimental impacts. Demand for aromatic and medicinal plants has increased threefold since 1999 and demand for the latter is likely to have skyrocketed during the current COVID-19 pandemic, further increasing pressure on wild plant populations and local harvesters.
"The exploitation of local or indigenous collectors or over-harvesting because of increased demand is all too commonplace. This 'hidden harvest' is neglected by companies and consumers but it is our collective responsibility not to be oblivious about where these ingredients originate and to choose those that have been sustainably sourced," said Timoshyna.
Neal's Yard Remedies is one company that has implemented the FairWild Standard. Lou Green, Head of Ethics & Sustainability, Neal's Yard Remedies said: "We are committed to ethical sourcing and the FairWild certification gives us assurance that both environmental and social needs have been taken into account when selecting wild plant materials for use in our organic health and beauty products. Displaying the FairWild logo on our products highlights that wild materials are used and helps to drive awareness of this important sustainability issue."
ADVICE FOR SHOPPERS:
Read the labels of the products you buy and ask yourself these 3 questions:
Does this product contain wild ingredients?
Does this product have the FairWild label or any other 'fair trade' certification?[1]
Is this brand acting in an environmentally and socially responsible way?
WHICH BRANDS SELL FAIRWILD CERTIFIED PRODUCTS?
Among the products sold by the following companies are several containing FairWild certified ingredients: Pukka Herbs, Neal's Yard Remedies, Dr Jacksons, Traditional Medicinals, Banyan Botanicals, Chantecaille, Baobabes, Jammoka and London & Scottish.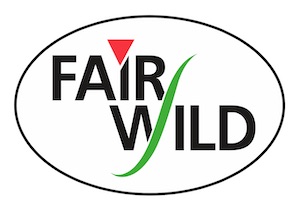 Discover more about FairWild: www.fairwild.org/what-you-can-do
---
Notes:
[1] While FairWild has some of the same requirements as other 'fair trade' standards (Fair for Life, For Life, Fairtrade, Fair Trade USA) and environmental sustainability standards (Rainforest Alliance or organic certifications), FairWild has an additional set of criteria for environmental sustainability of wild harvested plant, fungi and lichen ingredients. There is also no geographical restriction to FairWild certification, unlike many other 'fair trade' standards.
TRAFFIC's work around highlighting the harvest, trade and use of the wild plant "hidden" ingredients and expanding markets and pathways for sustainable trade that benefits wild species and harvesters is implemented through the collaboration with the FairWild Foundation, and the project "Wild at Home — Using Markets for Wild Ingredients to Support Conservation and Rural Livelihoods", generously funded by the Swedish Postcode Foundation. 
---
About Swedish Postcode Foundation
The Swedish Postcode Lottery believes that a strong civil society is essential for creating a better world. The Postcode Foundation's goal is to carry out that mission through projects that challenge, inspire and promote change.