Meeting to expand the role of wildlife detector dogs in Asia
Ruili, Guangxi, China, 7th January 2015 – In December 2014, the inaugural World Customs Organization (WCO) Asia/Pacific Regional Customs seminar on the use and training of detector dogs took place at Ruili Detector Dog Base, China. The meeting, which took place in co-operation with TRAFFIC, was part of international efforts to expand the number of wildlife detector dogs in use in Asia and to increase the range of products they can detect. 
---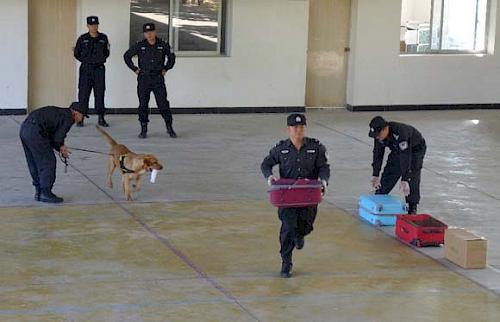 Some 40 Customs officials from Russia, Australia, New Zealand, Hong Kong SAR, Viet Nam, Myanmar, Lao PDR, Thailand, China plus representatives from the WCO Secretariat, the WCO Asia/Pacific Regional Intelligence Liaison Office (RILO) and TRAFFIC attended. 
Mr Pierre Bertrand, of the WCO Secretariat spoke about the increasing use of wildlife detector dogs worldwide, including a European Commission scheme to establish detector dog programmes throughout EU Member States. 
Customs Officials from China spoke about the history, successes, challenges and solutions in training dogs to detect everything from drugs to explosives, tobacco and wildlife products. In 2014, a dog named "Jin Kai" that was trained through a joint project between Ruili Drug Detector Dog Base and TRAFFIC in 2013 uncovered 16 cases of wildlife smuggling, a total of 15 kg of ivory, pangolin scales and rhino horns, according to Guangzhou Customs. 
Currently four wildlife detector dogs are being trained at Ruili Base with support from TRAFFIC for deployment in Xinjiang province where they will target key wildlife products including Saiga horns, Tiger and leopard parts. Chengdu Customs have also visited Ruili with the aim of establishing a wildlife detector dog team in Chengdu Shuangliu International Airport, the fourth largest airport in China. 
A practical demonstration of the extraordinary ability of trained dogs to detect Tiger bones and drugs in luggage, handbags and cars took place during the meeting. 
Detector dogs are already used across several of the countries represented at the meeting, while all participants expressed their interest in the use of dogs as an innovative means of combatting wildlife crime. 
"Southeast Asian countries are among the most important source areas for illegal wildlife products in China's markets and detector dogs are a great way to help Customs officers in detecting and deterring illegal trade," said Mr Zhou Fei, Head of TRAFFIC's China Office. 
Mr Zhang Weihua, Director of Ruili Drug Detector Dog Base offered his support to countries in the Asia/Pacific region for the training and use of detector dogs.
Ruili Base is administratively within the Anti-smuggling Bureau of China's General Customs Administration and was nominated by WCO as the Asia/Pacific regional Dog Training Centre in 2013. Currently it is the only wildlife detector dog training centre in Asia. 
"TRAFFIC began supporting the training of wildlife detector dogs at Ruili Base in 2013 and we stand by ready to provide further support to Customs and other enforcement agencies to assist them in their battle against wildlife traffickers," said Mr Xiao Yu, a Programme Officer for TRAFFIC. 
TRAFFIC's detector dog training programme in China is generously supported by WWF Germany and CEPF.
---