Dogs of war: Labradors on the wildlife crime frontline
How detector dog programmes in China are paying dividends in the fight against wildlife traffickers
 
Beijing, China, 17th April 2014—On 27 March 2014 the arrivals hall of Guangzhou Baiyun International Airport was bustling with passengers as usual. Jin Kai, a detector dog with the Guangzhou Customs Anti-smuggling Police, and one of the first graduates from a detector dog training programme run by the China Customs Anti-smuggling Bureau in co-operation with TRAFFIC and supported by WWF Germany and WWF-UK, was carrying out a routine inspection of passengers' baggage. 
---
Suddenly Jin Kai reacted strongly to the suitcase of an in-bound passenger. A Customs Officer checked the luggage and found 13 ivory bracelets, weighing a total of 420 g. 
Meanwhile, the reaction to the discovery from a fellow passenger raised the suspicions of the Anti-smuggling Policeman, who took Jin Kai to his luggage where another positive reaction led the officers to open the suitcase. In it, they found ivory necklaces, pangolin scales and other endangered animal products weighing a total of 500 g. 
These are the first seizures of endangered wildlife goods made by Customs Officers in China thanks to the services of a detector dog, and a sure sign that the ability of trained dogs to locate concealed smuggled wildlife goods is beginning to pay dividends in the battle against wildlife traffickers.
How Jin Kai became one of China's first wildlife detector dogs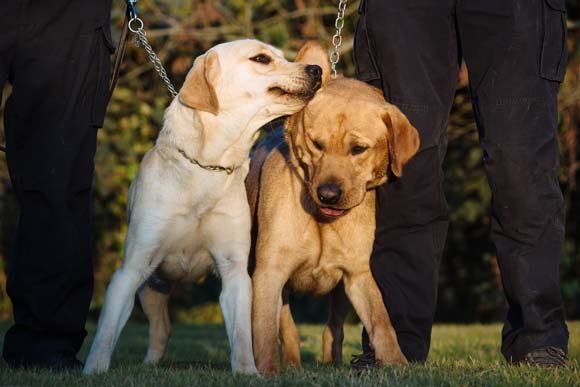 The first official wildlife detector dogs
Jin Kai (left) as an 18 month old female dog with Jin Li, (right) a three year old male. Both are Labrador Retrievers, a breed often seen in movies and kept as pets because they are friendly towards people, playful and intelligent. However, Jin Kai and Jin Li are neither pets nor movie stars. They are detector dogs fighting on the frontline to combat wildlife trafficking. For five months, from March to July 2013, Jin Kai, Jin Li and another Labrador, Duo Wei, received specialized training at Ruili Drug Detector Dog Base, run by the Anti-smuggling Bureau of Customs General Administration. They later graduated to become the first wildlife detector dogs to go into service with Chinese Customs, with Jin Kai entering service at Guangzhou Baiyun International Airport in December 2013.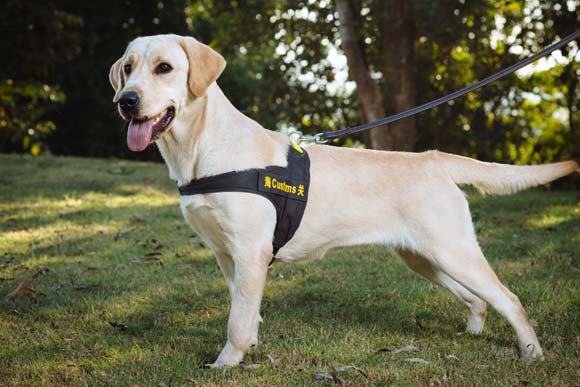 What defines a wildlife detector dog?
Wildlife detector dogs are trained to discover endangered wildlife products that are hidden during transportation, for example concealed in passengers' baggage or inside postal packages. Dogs can fairly easily be trained to find drugs, explosives, tobacco and other contraband but wildlife products generally do not have obvious odours so the detector dogs must be extremely focused. Motivation and high levels of concentration are essential qualities. Not every breed of dog or even every Labrador has the necessary qualities to become a wildlife detector dog.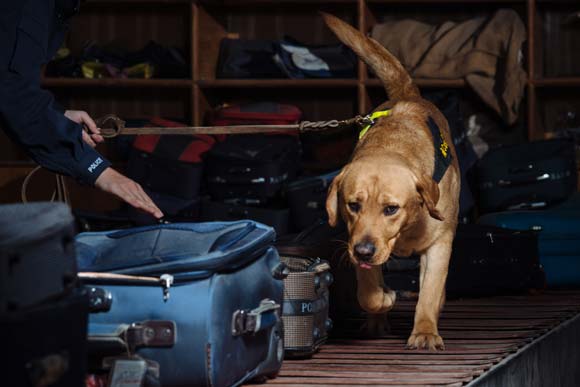 Why use detector dogs?
Many criminals engage in illegal wildlife trade because of the high profits and low risk of detection and punishment, and China is a major destination in the global trade. In recent years, many illegal endangered wildlife goods have been seized by Customs officials entering China, including ivory, tiger, leopard, rhino horn, and marine turtle products. Just as illegal wildlife trade has grown in response to rising demand, so have the methods used by smugglers to avoid detection diversified, with Criminals sometimes hiding contraband in their luggage, in parcels and even on their body. 
China first examined the use of detector dogs to find wildlife goods following a meeting held in Beijing facilitated by TRAFFIC, where some of the world's leading experts on the training and use of wildlife detector dogs participated. Following this meeting, China Customs Anti-smuggling Bureau, in co-operation with TRAFFIC, began their wildlife detector dog training programme. TRAFFIC has previously facilitated the development of wildlife detector dog programmes in a number of countries, including Germany, India and Thailand.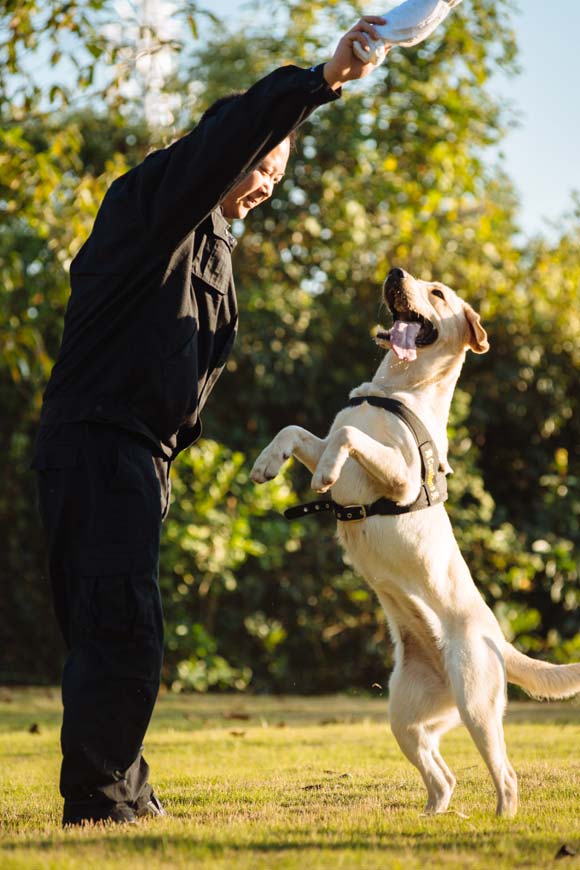 Special Prize
During training, the dogs receive rewards—not, as you might imagine, a bone, rather a tug of war with a bundled white towel. During each training session the handlers wear a special suit, to foster the concept of the dog entering "work" mode. The dogs are taught to examine every piece of luggage or parcel and when the smell something to give a standard reaction, such as sitting still next to the suspicious object. They then receive their reward—the white towel is laid down next to the object and then the trainer starts the tug of war. After the training is over, the white towel is thrown back into the training area, so the dogs come to associate finding the wildlife goods with receiving the white towel reward.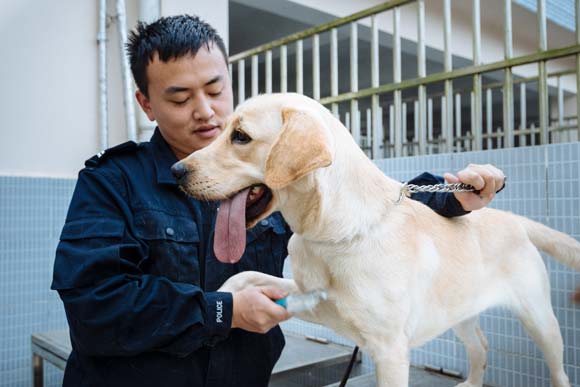 Cultivating the understanding between detector dogs and their handlers
There is a close bond between handlers and their dogs: the handlers must guide detector dogs with simple command and gestures dogs, while the dogs must understand their handler's subtle expressions and actions, otherwise they will not make a perfect team. Dog handlers also need to be physically fit, spending much time in the move during training sessions, while the tug-of-war rewards can be physically demanding too!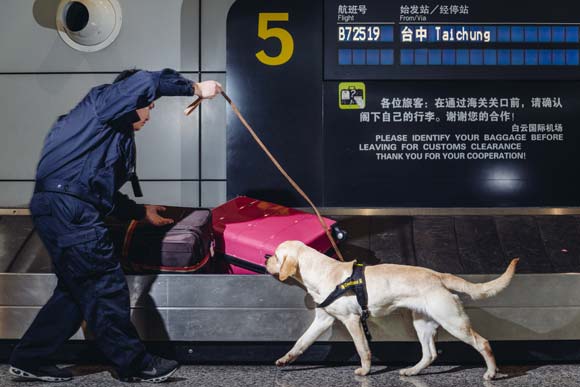 Formal Induction
Jin Kai, the most adept of the trained wildlife detector dogs, works in the international baggage claim section of Guangzhou Baiyun International Airport, gateway to Guangzhou, the largest city in South China.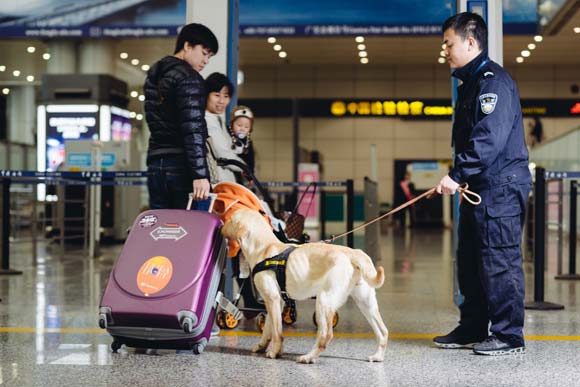 Curious Passengers
Thanks to her Labrador's friendly nature, passengers generally do not object to Jin Kai checking their baggage. Many stop to watch her in action or take a photo on their phone. However, like a true professional, Jin Kai does not become distracted by such attention.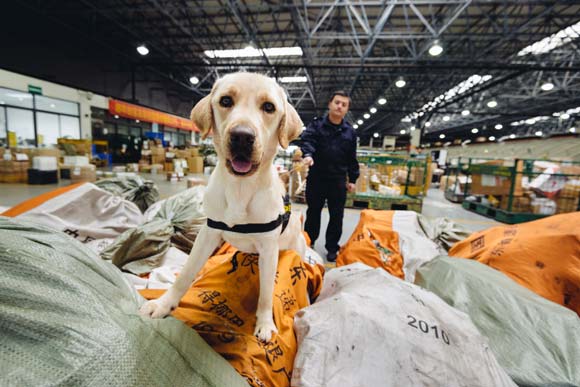 Parcel Searching
The airport postal sorting office is a huge isolated building. Jin Kai's job is to run back and forth through the mailbags to find suspicious parcels. Over time, her skills at finding wildlife goods among them will continue to improve. 
The life of a detector dog is not an easy one: the dogs must remain ever-vigilant and work hard. However, they are irreplaceable. A photo of a Labrador among postal mailbags may look cute, but the message to wildlife traffickers is clear: no matter where they try and conceal their illegal goods, you won't fool the dog.
---