Malaysia's second ivory incineration marks 13 tonnes destroyed since 2016
Port Dickson, Malaysia, 30th April 2019—Malaysia has today incinerated close to four tonnes of ivory confiscated during 15 enforcement actions taken over a seven-year period.
---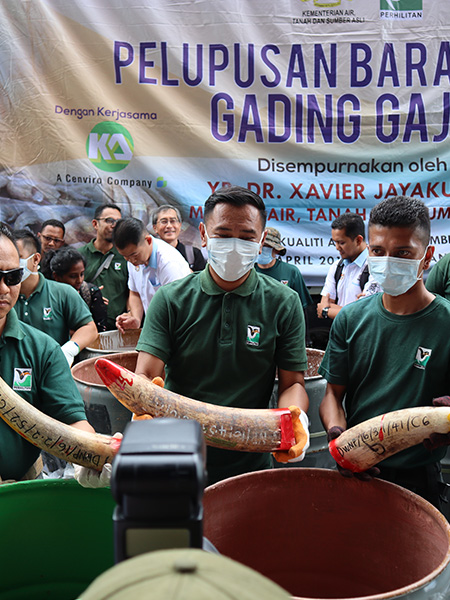 The ivory destroyed today included 3.7 tonnes of whole tusks and 228.89kg of partly processed ivory, including beads, chopsticks, uncarved blocks, and jewellery. All the ivory is of African Elephant origin.
Today's event was the second destruction of seized ivory in Malaysia, which has come under increasing scrutiny for its role in the transshipment of African ivory to Asia.
Most of the ivory destroyed today was seized in 2016. The single biggest enforcement case took place in 2011 when 664 pieces of whole and partial tusks weighing 1.6 tonnes were seized. The first ivory destruction event in April 2016 involved 9.55 tonnes of elephant tusks.
TRAFFIC congratulates the Malaysian authorities for the efforts that resulted in these ivory shipments being seized
Kanitha Krishnasamy, TRAFFIC Director – Southeast Asia.
The illicit consignments from 15 cases originated from countries including Mozambique, Zambia, and Nigeria and were reportedly destined for Viet Nam and China. Twelve of these were made at Kuala Lumpur International Airport – a transit point of choice for wildlife smugglers. The airport has seen its fair share of wildlife commodities being smuggled in or through the country from Africa, including shipments of ivory, rhino horns, African pangolin scales, and as well as Critically Endangered and CITES Appendix I Ploughshare Tortoise Astrochelys yniphora and Radiated Tortoise Astrochelys radiata from Madagascar.
These incidences highlight the increasingly critical role the air transport industry plays in the global illicit ivory trade. The enforcement actions were taken by both the Royal Malaysian Customs and the Department of Wildlife and National Parks Peninsular Malaysia (PERHILITAN).
"Seizures and destruction of contraband is welcomed but only by weeding out those culpable, can we end the decade-long problem of Malaysia being used as prominent transit hub. We hope these cases paved the way for in-depth investigations to do just that", said Krishnasamy.
Separately, PERHILITAN also revealed that three nationals from Malaysia, Viet Nam, and China respectively were arrested in enforcement cases outside a port or airport in 2016. All were prosecuted for illegal possession of a total 112 tusks and received fines amounting to MYR187,500 (USD45,320).
"This is one of the biggest collections of seized items that we have at present," said Malaysia's Land, Water and Natural Resources Minister Dr Xavier Jayakumar referring to the ivory incinerated today, "Malaysia seems to be a transshipment hub for this trade."
"We are working very closely with Customs, Police, and the US Embassy which has come forward to fund a programme to train sniffer dogs to be used in ports and airports to detect illegally traded animal parts, a trade which is becoming more widespread and for which the volumes are getting higher," he told a press conference at an event to mark the incineration of ivory.
Efforts taken by Malaysia to tackle this trade will be crucial in the global fight against illegal ivory trade. The topic will be among the many being debated at the 18th CITES CoP as part of the report on the Elephant Trade Information System (ETIS)*.
The 2019 ETIS report places Malaysia in the same Group 1 cluster as Nigeria and Mozambique – two countries that have commonly been part of the trade route for ivory and other wildlife seizures made in Malaysia. The three countries are clustered together for the first time, collectively having the second largest weight value of seized ivory and indicating a high frequency and scale of ivory moving through and from these countries.
The Minister also told press that Malaysia would incinerate rhino horns it had previously seized, adding that this would take place only after the government received reports on the specimens it has sent for identification to South Africa. In December Malaysia incinerated 2. 8 tonnes of African pangolin scales.
In July 2017, Hong Kong seized 7.2 tonnes of ivory from Malaysia, and in September 3 tonnes of ivory was found in Sepanggar Port, Sabah on its way from Nigeria to China.
The stockpile destroyed today was audited by the Ministry's Internal Audit Unit, its Integrity Unit and PERHILITAN.
---