Wildlife seizures in 2014 highlight Lao PDR's role in trafficking
Petaling Jaya, Malaysia, 6th January 2015—On 14th December 2014, French Customs officers discovered 170 baby Radiated Tortoises wrapped in sticky tape and hidden in the secret compartment of a crate transiting Paris's main Charles de Gaulle airport en route to Lao PDR.
---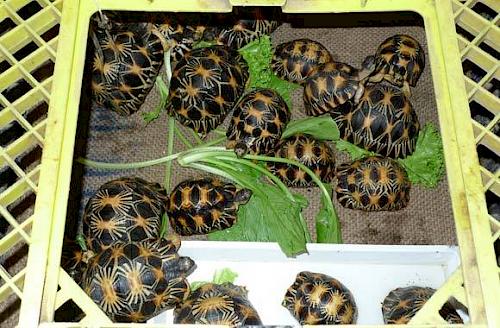 The Radiated Tortoise Astrochelys radiata is found only in Madagascar and is prized by collectors for the unique pattern on its shell, but all commercial international trade is banned under the Convention in International Trade in Endangered Species of Wild Fauna and Flora (CITES).  
The seizure was one of at least nine high-value international wildlife seizures made in 2014 where Lao People's Democratic Republic was implicated as the source, transit or destination country. Lao PDR itself reported no major wildlife seizures during the year. 
Geographically positioned at the centre of the Greater Mekong region, Lao PDR shares borders with five other countries notorious for wildlife crime; Cambodia, China, Myanmar, Thailand and Viet Nam. 
In 2012, the United Nations Office on Drugs and Crime (UNODC) highlighted Lao's "extreme vulnerability" to various forms of transnational organised crime, including the trafficking of wildlife. 
Last month, CITES identified Lao PDR as one of three Parties of "importance to watch" over their role in the global ivory trade. Lao PDR has never reported an ivory seizure to the Elephant Trade Information System (ETIS), the database of global ivory and elephant product seizures managed by TRAFFIC on behalf of Parties to CITES since 1989. 
In 2014, TRAFFIC identified Lao PDR as a major source of illegal wildlife products such as bear bile, to supply international demand.
"The composition of wildlife seizures implicating Lao PDR in 2014 highlights that the country is a major conduit for the trafficking of high value, and highly threatened wildlife," said Sarah Stoner, Senior Wildlife Crime Analyst of TRAFFIC in Southeast Asia.  
"Laos is clearly being exploited by organized crime groups for its strategic location and its lack of capacity to enforce national laws and CITES effectively."
TRAFFIC is urging the authorities in Lao PDR to increase their vigilance, particularly at airports such as Wattay International and other points of entry and exit as part of the global efforts to address serious international wildlife trade. 
Greater co-operation with neighbouring countries, such as Viet Nam and Thailand, to develop intelligence-led investigations is also essential to disrupt organized and transnational wildlife crime. TRAFFIC also believes collaboration with the wider CITES community is needed to ensure Lao PDR deters illegal wildlife trade, rather than enabling it.
During 2014, the following seizures all occurred outside of Lao PDR but implicated the country in some way. Together they illustrate the global trafficking routes being exploited for the transportation of illegally sourced African wildlife into the Asian marketplace, as well as trafficking of Asian species within the region. 
1. Uganda - Dubai - Singapore - Lao PDR - Viet Nam 
On 10th January, a Vietnamese national left Uganda for Viet Nam on a flight via Lao PDR, making transit stops in Dubai and Singapore where he was arrested and found to be in possession of 22kg Black Rhinoceros Diceros bicornis horns. He was later sentenced to 15 months in jail.
2. Angola - Dubai - Singapore - Lao PDR
On 14th January, Singapore's Agri-Food and Veterinary Authority seized luggage and arrested two Vietnamese men at Changi Airport for smuggling 13 pieces of elephant tusks, 16 pieces of ivory bangles and 109 pieces of ivory cubes. The bags arrived on a flight from Angola to Lao PDR via Dubai and Singapore. Investigations revealed that the two men were approached by an unknown Vietnamese man at a market in Angola who promised a payment of USD 1000 if the goods were successfully smuggled to Lao PDR.  The two men were later sentenced to 16 months in prison. 
3. Thailand - Lao PDR 
On 24th January, park rangers in Thailand seized 214 baskets containing 30 Yellow-headed Temple Turtles Heosemys annandalii, eight Asiatic Soft-shell Turtles Amyda cartilagenea, 462 Monocled Cobras Naja kaouthia and 792 Indochinese Rat Snakes Ptyas korros.  The consignment was seized from two Laotian and one Thai suspect.
4. Thailand - Lao PDR - Viet Nam / China
On 19th February, Thai police seized five Tiger cubs Panthera tigris, 312 monitor lizards, 174 tortoises and 11 soft-shell turtles being smuggled to neighbouring Lao PDR. News reports claimed the Tigers were to be kept in Lao PDR for a year before being sold on.
5. Rwanda - Middle East - India - Thailand - Viet Nam - Lao PDR  
On 27th February, Thai Customs arrested traffickers who attempted to smuggle five rhino horns hidden inside sculptures from Rwanda while transiting through Bangkok.  The consignment was destined for Lao PDR, but was routed through the Middle East, India, Thailand and Viet Nam.  
6. Lao PDR - Viet Nam
On 8th June, border guards in Kon Tum Province, Viet Nam, apprehended a local man transporting nearly 15kg of ivory.  The suspect claimed he had bought the ivory in Lao PDR and was "preparing to sell it" in Viet Nam.
7. Nigeria - France - Lao PDR
On 2nd July, French Customs at Roissy Airport, Paris searched eleven boxes of goods labelled "fish scales" from Nigeria where they found 250kg of pangolin scales, the equivalent of around 1000 individuals. Lao PDR was the intended destination.
8. Lao PDR - Viet Nam 
On 27th November, Vietnamese authorities at the Lao Bao Border Gate in Quang Tri province found pangolins and reptiles hidden in the luggage hold of a bus. The bus driver admitted to being hired by an unknown person to transport the animals. 
9. Madagascar - France - Lao PDR
On 14th December, French Customs officers discovered 170 Radiated Tortoises hidden in a crate transiting Paris's main Charles de Gaulle airport en route to Lao PDR.
---