Live leopards and other animals found in luggage
Bangkok, Thailand, 13th May 2011—Passport, tickets, leopard cubs? That's exactly what a United Arab Emirates man was found carrying when police arrested him at the Suvarnabhumi International Airport in the early hours of this morning.
---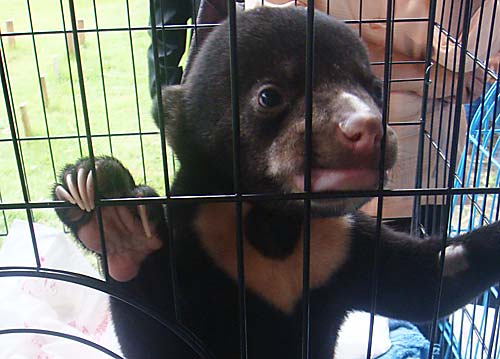 Seven infant animals—four Leopard cubs, a Bear cub, a baby gibbon and a marmoset—were found alive and packed in the 36-year-old suspect's bags. 
And it wasn't bulky luggage or suspicious behaviour that foiled the trafficker's audacious attempt. What gave him away was the muffled cry of one of the Leopard cubs stuffed in his bag.
Officers from the Natural Resources and Environmental Crimes Suppression Division of the Thai Police had received a tip off that a passenger bound for Dubai would be attempting to smuggle live animals out of the country.
 
At about 1 am this morning officers from the division ordered all passengers who were minutes away from boarding a flight for Dubai, to be checked, in the hopes of identifying the individual who was carrying the animals.
It was during that process, that a police officer heard the Leopard's cry and zoomed in on the suspect. The animals were found in his hand luggage.
The animals are recovering at a National Parks, Wildlife and Plant Conservation Department rescue centre while the suspect is expected to be charged with smuggling endangered species out of Thailand, its Deputy Director General Dr Theerapat Prayunsitthi told a press conference.
If convicted, the suspect could face up to four years in jail and a THB40,000 (USD1,300) fine.
This is not the first attempt by smugglers to traffic infant wild animals out of Thailand: this February, an Indonesian man was found to be carrying three suitcases full of animals, while in August last year, authorities found a drugged tiger cub hidden in the luggage of a Thai woman who was attempting to smuggle it to Iran.
The case put the illegal capture and trafficking of young wild animals for the pet trade in the limelight and the problem has since become the focus of a TRAFFIC Southeast Asia – Body Shop campaign in Malaysia.
---