Live Tiger found in check-in baggage
Bangkok, Thailand, 26th August 2010—A two-month old tiger cub was found sedated and hidden among stuffed-tiger toys in the luggage of a woman at Bangkok's Suvarnabhumi International Airport on Sunday.
---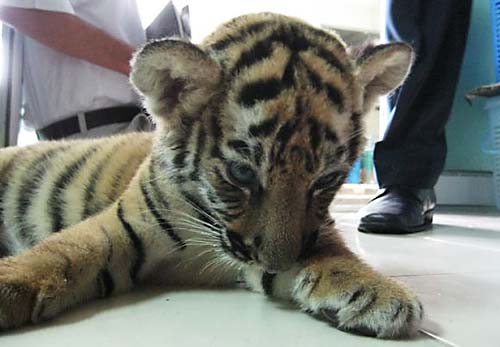 The 31-year old Thai national was scheduled to board a Mahan Air flight destined for Iran when she had trouble checking in her oversized bag.
Airports of Thailand (AOT) staff suspected something amiss when they scanned the bag and x-ray images showed an item resembling a real cat.  
Officers from the Livestock Development Department and the National Parks, Wildlife and Plant Conservation Department were then called in to open the bag for inspection and discovered the tranquilized cub.
Investigations are underway to determine if the cub was wild caught or captive-bred, where it came from and the suspect's intended final destination.
The cub is being cared for at the Rescue Center of the Department of National Parks, Wildlife and Plant Conservation. DNA samples will be sent to the tiger enclosure at Khaopratab Wildlife Rescue Center in Ratchaburi Province, to determine which subspecies the cub belongs to, which will help determine its origin.
Tiger populations in Thailand and throughout Asia are critically threatened by poaching and trade to meet the international demand for tiger parts, products and, as illustrated in this case, live tigers.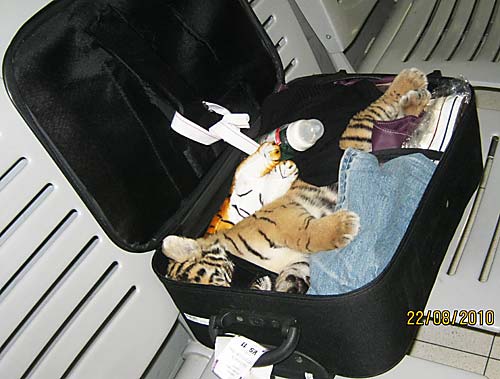 Tigers are categorized as Endangered species by the International Union for Conservation of Nature (IUCN Red List of Threatened Species) and listed under Appendix I of the Convention on International Trade in Endangered Species of Wild Fauna and Flora (CITES) prohibiting international commercial trade. Both captive and wild caught tigers fall under the same regulations. 
The ASEAN Wildlife Enforcement Network, sponsored by the US Agency for International Development recently held a training course on Wildlife Trade Regulation at Bangkok's Suvarnabhumi International Airport.  
Many of the agencies who were involved in the case had attended that course and work in close co-operation under Thailand's own Wildlife Enforcement Network.
"We applaud all the agencies that came together to uncover this brazen smuggling attempt," said Chris R. Shepherd, TRAFFIC Southeast Asia's Deputy Regional Director.
"TRAFFIC is glad to see these training programmes pay off in seizures, arrests and continued vigilance at the airport especially by the Department of National Parks, Wildlife and Plant Conservation."
However, Shepherd also cautioned that this case demonstrated a real need for constant monitoring and tougher penalties. 
"If people are trying to smuggle live Tigers in their check-in luggage, they obviously think wildlife smuggling is something easy to get away with and do not fear reprimand.
"Only sustained pressure on wildlife traffickers and serious penalties can change that."
---