China joins South Africa and Mozambique in efforts to curb illegal wildlife trade
Maputo, Mozambique and Johannesburg, South Africa, 13th April 2016—consecutive workshops hosted jointly by TRAFFIC and WWF, in collaboration with the Chinese Government and supported by the Governments of South Africa and Mozambique, respectively, have helped raise awareness among Chinese nationals working in the two African countries of regulations protecting wildlife and helped support international efforts to reduce the demand for products of threatened wildlife.
---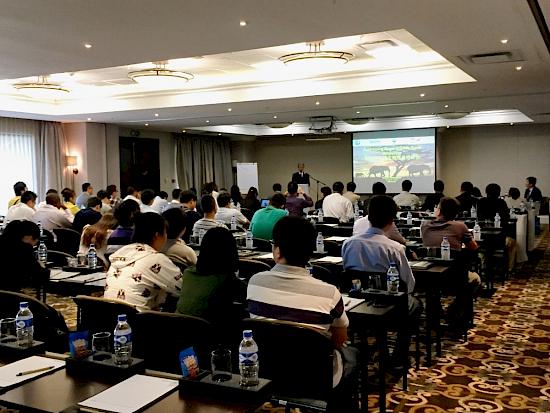 The two events, in Johannesburg and Maputo respectively, were supported by China's State Forestry Administration (SFA), China Customs, National Forestry Police, the Chinese embassies in South Africa and Mozambique and the China International Contractors Association (CICA). The SFA is China's Management Authority (MA) for the Convention on International Trade in Endangered Species of Wild Fauna and Flora (CITES).
Around 200,000 Chinese nationals live in Johannesburg, the largest city in South Africa and an important economic and financial centre, while Maputo, the capital of Mozambique, is a key port linking East Africa to the rest of the world.
Against a backdrop of rising economic and trade exchange between Africa and China, Chinese citizens have been implicated in a number of cases of poaching and smuggling of African ivory, rhino horn and other endangered wildlife products. Such cases undermine China's international reputation and wildlife conservation efforts in Africa.
Seventy Chinese nationals from State-owned enterprises, private businesses and local residences in Mozambique and 70 in South Africa attended the workshops, where representatives from the Chinese CITES MA, China Customs and National Forestry Police spoke about wildlife protection and management laws in China, CITES regulations and recent smuggling cases, in order to discourage local Chinese nationals from buying and carrying ivory and other endangered wildlife products to China from Africa.
Su Jian, the Chinese ambassador to Mozambique, referred to legal cases involving Chinese nationals, 70% of which were illegal timber- and wildlife smuggling-related, which damaged the reputation of Chinese nationals and that of their country. He requested local Chinese enterprises improve their oversight, as if any Chinese staff working for them were engaged in smuggling, the employer could be held partly responsible. The workshops, by contrast, provided great opportunities for Chinese enterprises and local communities to join in wildlife protection efforts.
TRAFFIC spoke about trends in African Elephant and rhino poaching and the associated illegal ivory and rhino horn trades. It noted that those convicted of wildlife crime faced harsh penalties in many African countries. Kenya, Tanzania and Ethiopia have all recently strengthened their penalties. In March this year, two Chinese nationals convicted of illegally possessing 706 ivory tusks were each sentenced to 30 years in gaol or the option to pay a fine of TZS54.7 billion (ca. USD25 million) by a district court in Tanzania. In 2014, Mozambique increased its maximum penalties to USD90,000 or up to 12 years in gaol.
China has taken action too: earlier this year, the SFA announced the extension of bans on ivory imports and a new one on the import of pre-CITES ivory. The three bans will last to the end of 2019. Last September China and the USA announced a joint commitment to tackle illegal international ivory trade. Li Nan, a project manager with WWF, spoke about China's efforts to support wildlife conservation in Africa under the framework of the Forum on China Africa Cooperation (FOCAC) and China's "One Belt One Road" strategy. Zhang Xiang, Deputy Secretary General of the CICA, emphasized that Chinese corporates should take their social and environment responsibility in Africa seriously and introduced a document on Guidance for Chinese enterprise business practices in Africa.
Zhang Shanning, the Enforcement Division Chief of China's CITES MA, said that wildlife conservation was a cause for all mankind, shared by the international community, and that China stood ready to combat illegal wildlife trade and its overseas citizens should take their responsibility to comply with CITES and relevant national legislations seriously.
"We are coming from afar to Africa to deliver a simple but firm message to Chinese people here: Do not engage in illegal wildlife trade," said Zhou Fei, Head of TRAFFIC's China office.
"If the crime and the demand that fuels it does not end, then attempts to save Africa's wildlife will be in vain."
Another highlight of the workshops is the fact that the Mozambique Branch of China Road and Bridge Corporation and South Africa Branch of Sinohydro Group Ltd. made pledges on "Refusing illegal wildlife trade", representing other Chinese enterprises at the two workshops.
Up to approximately 30,000 African Elephants have been poached annually in recent years, mainly in Central and Eastern Africa, while rhino poaching has sky-rocketed. South Africa, home to around 80% of Africa's estimated 25,000 rhinos, has seen poaching rise from 13 animals as recently as 2007 to 1175 in 2015. Continent-wide, a record 1338 were poached in 2015.
These were the third and fourth communications workshops of their kind jointly conducted by TRAFFIC and the SFA since the first held in Kenya in January 2014 and one in Ethiopia last year.
The latest workshops were generously supported by GIZ on behalf of the German Federal Ministry for Economic Cooperation and Development (BMZ) and the German Federal Ministry for Environment, Nature Conservation, Building and Nuclear Safety (BMUB).
---