China joins Ethiopia to address ivory trafficking
Addis Ababa, Ethiopia, 14th May 2015—TRAFFIC today hosted a workshop in Addis Ababa for Chinese businesses and citizens based in Africa to address the growing issue of illegal ivory trade. 
---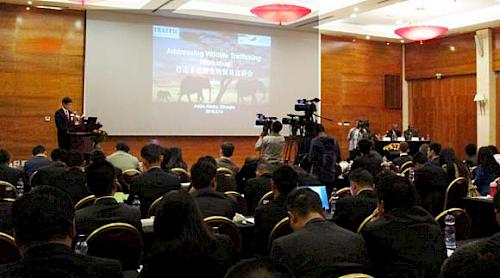 The event was organized in collaboration with the Chinese Embassy in Ethiopia and the Ethiopian Wildlife Conservation Authority. 
Addis Adaba, with its direct flights to Asia, is a key transport hub in Africa, and Customs officers there have made a multitude of ivory seizures involving Chinese citizens returning home. 
Around 100 Chinese nationals from State-owned enterprises operating in Ethiopia and the local Chinese community attended today's meeting.
Chinese Ambassador to Ethiopia, La Yifan, in his keynote speech, urged close co-operation between the two countries in implementing international wildlife trade legislation under CITES (the Convention on International Trade in Endangered Species of Wild Fauna and Flora), and for the Chinese community in Africa to obey the national legislation of their African host countries.
The Minister of Culture and Tourism of Ethiopia Ato Amin Abdulkadir expressed his appreciation to the Chinese government for their co-operation in addressing ivory trafficking between Africa and China. 
Speakers at the workshop included Zhang Qi, Director of the Endangered Species Office of the State Forestry Administration of China and Ouyang Xingfa from the General Administration of Customs of China, who spoke about moves to enhance law enforcement activities between the two nations. 
Jiang Jing, Senior Manager from Tencent, talked about the latest trends in illegal online ivory sales, including the recent development highlighted by TRAFFIC's monitoring of a move away from e-commerce sites onto social media platforms. 
Dr Meng Xianlin, Executive Director General of the Endangered Species Office of the State Forestry Administration of China, said "China believes the international community needs to take joint efforts to address wildlife trafficking. This workshop is part of such efforts made by both China and Ethiopia."
"Wildlife trafficking is a serious international issue, and TRAFFIC is delighted to welcome senior representatives from the Ethiopian and Chinese governments to this latest Africa-based outreach initiative," said James Compton, Senior Director for TRAFFIC. 
"Such cross-continental co-operation in a vital part of the concerted international response to the wildlife poaching crisis, supporting initiatives such as improved patrolling, more engagement with local communities directly impacted by poaching and changing buyer behaviour in consumer countries." 
The current meeting in Ethiopia is the second outreach workshop for Chinese citizens in Africa: TRAFFIC participated in the first that took place in Kenya in January 2014. 
Earlier this month, governments at the African Union-hosted International Conference on Illegal Exploitation and Illicit Trade in Wild Flora and Fauna in Africa in Brazzaville, Congo, issued a Declaration, calling for international co-ordination and concerted response to the poaching crisis.
TRAFFIC is grateful to support through the Polifund measure, implemented by the Deutsche Gesellschaft für Internationale Zusammenarbeit (GIZ) GmbH on behalf of the German Federal Ministry for Economic Cooperation and Development(BMZ), which combines the expertise and resources of five German ministries, as well as international organizations and NGOs to combat poaching and the illegal trade in wildlife products (ivory and rhino-horn) in Africa and Asia.

---