Chinese Embassy in Kenya tells its citizens involvement in illegal wildlife trade is not acceptable
Nairobi, Kenya, 24th January 2014—China's Embassy in Nairobi last week hosted an event for Chinese businesses and citizens based in Africa to address the growing issue of illegal wildlife trade and their government's intention to co-operate with local authorities to investigate, arrest and prosecute offenders. 
---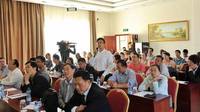 In 2013 China entered into a partnership with the UN Environment Program to help scale up the fight against elephant poaching in Africa specifically, but also views many other aspects of Africa's wildlife trade as problematic, including the plight of rhinos and pangolins. 
This was the first embassy event in the campaign, which involved outreach to State-owned enterprises as well as independent Chinese nationals living in Kenya. More than 80 members of the local Chinese community attended, including influential business leaders, and the highly successful event was widely reported in local media. 
China's Acting Ambassador in Kenya, Mr Tian Lin, in his keynote speech, urged the Chinese community in Africa to obey the national legislation of their African host countries, noting it was what they would expect of anyone visiting China.
Wan Ziming, Director of Enforcement and Training at the Endangered Species Office of the State Forestry Administration of China, told those present: "The Chinese government will not relent in its support for the fight against illegal trade of wildlife products." 
He also spoke of China's role in helping implement international obligations under the Convention on International Trade in Endangered Species of Wild Fauna and Flora (CITES) and of the scaled-up law enforcement efforts currently being implemented in China and globally in support of them. 
Bonaventure Ebayi, Director of the Lusaka Agreement Task Force, spoke about the role of the Task Force, levels of wildlife crime in Africa and the new hard-hitting legislation with deterrent penalties recently introduced in Kenya. 
TRAFFIC's Tom Milliken noted that direct Chinese investment in Africa is currently growing by over 20% annually and that China-Africa trade was nearly USD250 billion in 2013.  
"Africa's economic future is now intimately linked with Chinese investment.  The challenge is to make it a win-win of sustainable development, preventing negative impacts on conservation areas with high biodiversity values and halting illicit trade in wildlife products, particularly elephant ivory and rhino horn." 
He said: "Coming hot on the heels of China's unprecedented ivory destruction event earlier this month, this Africa-based outreach initiative is further evidence that China has made a serious commitment and desires to do the right thing to help address wildlife trafficking." 
TRAFFIC is also supporting initiatives by the government and private sector in China to help curb the demand for illicit wildlife products. This includes messaging at Guangzhou airport targeting the awareness of Chinese travellers going to Africa, as well as a research programme to understand the motivations of illegal wildlife product consumers that will underpin long-term demand reduction efforts.
---