"Where's My Mama?"
Body Shop and TRAFFIC launch awareness campaign on illegal wildlife trade
Kuala Lumpur, Malaysia, April 2011—Every day, countless young wild animals are orphaned when their mothers are captured or slaughtered for the illegal wildlife trade. Many young are also taken from the wild and end up in the illegal trade because someone wants a cute pet.
---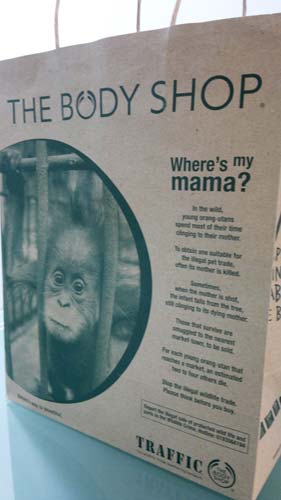 Now, The Body Shop with the help of TRAFFIC Southeast Asia are calling attention to this problem with the "Where's My Mama?" campaign, that urges the public to consider the impact of their purchases and choice of pets.
The campaign features the orang-utan, tiger and bear, all of which are affected by the illegal pet trade.
"The illegal pet trade in Southeast Asia is an enormous underground industry," noted TRAFFIC Southeast Asia Regional Director, Dr William Schaedla. 
"Orang-utans, tigers and bears are all victims of this trade, as are many other species from the region. A significant proportion of the turtles, snakes, birds, fish and small mammals available in Malaysian pet shops are sourced illegally and many die in the collection and shipping process." 
To raise awareness on the issue, TRAFFIC Southeast Asia is running an online awareness campaign from its Facebook page, featuring photos, factsheets, news and articles by experts in the field on the three species. 
The Body Shop will feature the campaign posters in its 58 stores in Peninsular Malaysia. 
An estimated half a million people walk into these stores every month.
The Body Shop will also carry the campaign message on its recycled paper bags and ask the public to report illegal wildlife trade to a wildlife crime hotline. The hotline is managed by the Malaysian Conservation Alliance for Tigers, a coalition of wildlife conservation bodies in Malaysia, which includes TRAFFIC Southeast Asia.
"At The Body Shop we place great importance in ensuring that all our products come from a natural a source and is obtained without causing any harm to our planet," Datin Mina Cheah-Foong, Managing Director of The Body Shop West Malaysia.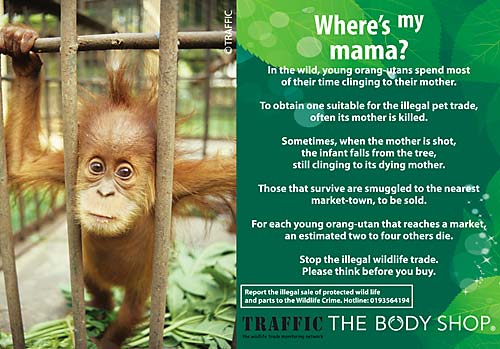 "We are working to create this awareness with TRAFFIC Southeast Asia, as a continuation from our 'Save Belum-Temengor' campaign in the hopes that people become aware of the importance of saving our wildlife. 
"We don't do this because it's fashionable; we do it because it has to be done," she said.
---