U.S. Mission Uganda Hosts Wildlife Trafficking Stakeholder Workshop
Kampala, Uganda, August 2016—On 8–9th August 2016, U.S. Mission Uganda partnered with TRAFFIC and the Uganda Wildlife Authority (UWA) to convene the first Uganda Wildlife Trafficking Stakeholder Workshop. The two-day workshop's goals were to assess the trends of transnational wildlife crime in Uganda and set priority actions for combating wildlife trafficking at a national level.
---
Wildlife trafficking is a lucrative form of transnational, organized crime that is pushing iconic species toward extinction while undermining peace and security, sustainable livelihoods, and the rule of law. Uganda is a major transit country for East Africa's illegal wildlife trade and was among the eight countries implicated as having significant involvement in the global illegal ivory trade who, during the 16th Conference of the Parties to the Convention on International Trade in Endangered Species of Wild Fauna and Flora (CITES) held in March 2013, agreed to develop action plans to address the illegal flow of ivory.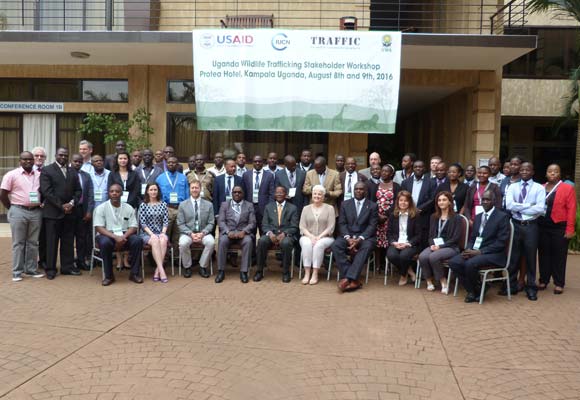 In her remarks, U.S. Ambassador to Uganda Deborah R. Malac highlighted the U.S. government's commitment to end wildlife trafficking. Such activities, she said, are "a multibillion dollar, black market industry that threatens global security, undermines rule of law, fuels corruption, and hampers economic development. And it has significant effects on the national interests of the United States, Uganda, and our partners around the world." Ambassador Malac noted that USAID in 2015 invested more than USD55 million globally to fight poaching, enhance law enforcement and prosecution, reduce consumer demand, and disrupt the transit of illegal wildlife products. Among USAID's flagship activities in Uganda is the Wildlife Trafficking, Response, Assessment, and Priority Setting Project—known as Wildlife TRAPS—a global initiative designed to address illegal wildlife trade between Africa and Asia.
TRAFFIC's East Africa Co-ordinator, Julie Thomson, explained, "Uganda is currently at a crossroads—both figuratively, as its wildlife faces poaching pressure, and geographically, as a key transit country for wildlife contraband—and this meeting provided the platform for stakeholders to build consensus on how best to deal with the threat from illegal wildlife trade and its impacts on livelihoods, the economy and even national security, both within Uganda and the wider region."
The Uganda Wildlife Trafficking Stakeholder Workshop was implemented as part of USAID's Wildlife TRAPS initiative. In Uganda, Wildlife TRAPS is conducting a comprehensive, national-level assessment of wildlife trade dynamics that aims to identify the best approaches to combating poaching and trafficking of illegal wildlife and wildlife products.
---