Global wildlife trade conference closes with firm resolve
Bangkok, Thailand, 14th March 2013—Two weeks of inter-governmental negotiations on regulation of trade in wild animals and plants concluded today with some giant steps forward for global efforts to stamp out illegal wildlife trade and ensure sustainability of future trade in a range of valuable species.
---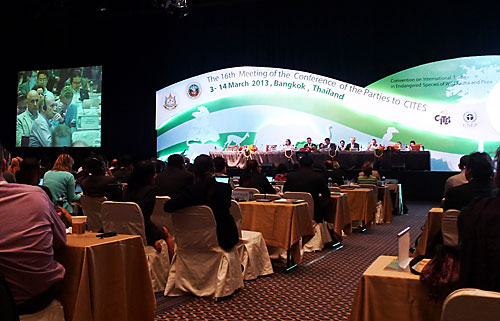 "Governments here this week took much-needed action to extend CITES controls to a range of vulnerable and valuable timber and shark species," said Steven Broad, Executive Director of TRAFFIC, "There were also critical agreements about action and accountability with respect to efforts to close down illegal trade and markets for endangered species banned from trade under CITES".
Three proposals to introduce trade regulation for shark species—Oceanic Whitetip, three species of hammerhead and Porbeagle sharks—and a further proposal for manta rays were all approved by delegates after tense negotiations. They will all be included in Appendix II, which permits their international commercial trade, but only with the appropriate permits demonstrating legal and sustainable sourcing.
"While the listing of sharks was warmly welcomed, it is a bittersweet victory, since their populations have already fallen to such a low level that these measures became a necessity" said Glenn Sant, TRAFFIC's Marine Programme Leader.
Timber species were also to the fore at CITES, with dozens of commercially exploited tropical hardwoods to receive better international trade controls through an Appendix II listing. They included ebonies from Madagascar Diospyros spp., Brazilian Rosewood Aniba rosaeodora, Thailand Rosewood Dalbergia cochinchinensis and further Dalbergia species from Central America and Madagascar.
Many of the species are used in the manufacture of musical instruments, for example violins and guitars, also in furniture and decorative items, such as chess pieces. They are also heavily exploited, very slow growing and often sourced illegally from areas subject to widespread deforestation or from within protected areas.
"The meeting truly lived up to its expectations for timber species," said David Newton, TRAFFIC's Director in East and Southern Africa.
Good progress was also made with conservation measures for flagship endangered species banned from trade under CITES—elephants, rhinos and Tigers.
For rhinos, two of the countries at the centre of the rhino poaching crisis—Mozambique and Viet Nam—were instructed by CITES to demonstrate what action they have taken to address the situation. A key development was that countries will have to implement strategies to reduce the demand for rhino horn.
"The recommendation to implement a demand reduction strategy for an endangered species is a welcome first for CITES," said Sabri Zain, TRAFFIC's Director of Advocacy. "Enforcement efforts to stem poaching and trafficking may be futile without complementary efforts to reduce demand for these illegal products."
CITES also approved improved protection measures for Tigers, including gathering information on incidents of poaching and illegal trade in all Asian big cats and to analyse the information for circulation to relevant enforcement agencies and range States.
Last week, TRAFFIC, in collaboration with WWF, launched Reduced to Skin and Bones Revisited, a report analysing Tiger part seizures across 12 of the 13 range States for Tigers.
"TRAFFIC is fully committed to making available our innovative and in-depth analyses of Tiger seizure and market information to the CITES enforcement and implementation reviews," said Broad.
On elephants, a number of measures were agreed that will improve control of ivory. They included requirements for the compulsory reporting of all ivory stockpiles held by governments on an annual basis, that all ivory seizures of more than 500 kg in weight will be forensically examined to determine their country of origin and for counties to report on measures taken to prevent illegal trade in live captive elephants. In addition, eight countries implicated as having significant involvement in the global illegal ivory trade—China and Thailand as end-use markets, Malaysia, Philippines and Viet Nam as transit countries, and Kenya, Tanzania and Uganda as source and exit points in Africa—agreed to develop action plans to address the illegal flow of ivory along the trade chain.
"International concern about wildlife crime has been picked up at the highest levels over the past year", said Broad.
"The conference ending today has clearly been energised by growing global recognition that wildlife crime is a serious crime—now we look for the positive words being translated into real and urgent action to close down illegal and unsustainable trade."
---