TRAFFIC supports training of hundreds of border police in Guangxi, China
Beijing, China, 4th May 2012—More than 350 border police attended training sessions held last week in Guangxi Province, China, to increase their awareness about illegal wildlife trade and enhance their capacity to detect wildlife smuggling in the region. They included 200 police officers from 29 border checkpoints and police stations in Chongzuo who followed the proceedings through a live closed circuit television broadcast.
---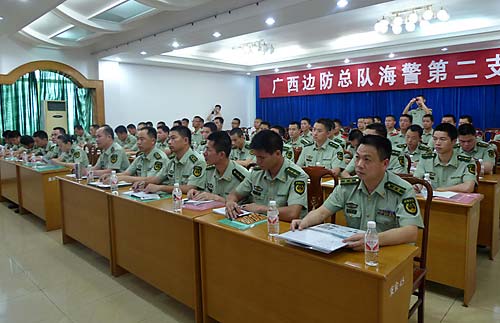 The sessions were organized for border police from the cities of Fangchenggang, Chongzuo and Jingxi in Guangxi Province by the Nanning Branch of China's CITES (Convention on International Trade in Endangered Species of Wild Fauna and Flora) Management Authority (MA) in collaboration with TRAFFIC, and took place between 25–27th April.
The province, officially known as Guangxi Zhuang Autonomous Region, in the far south of China is an area rich in biodiversity. However, with mountainous terrain and a long border with neighbouring Viet Nam, it is an important gateway for cross-border smuggling. 
The Guangxi Armed Border Police Corps is responsible for patrolling China's land and sea borders with Viet Nam, and with officers stationed at all checkpoints and police stations in the region, the Corps is key to enforcement efforts against wildlife smuggling in Guangxi. 
Last year, for example, a routine inspection of a truck at a highway toll station in Pingxiang close to the border with Viet Nam, found 707 elephant tusks, 32 ivory bracelets and 1 rhino horn concealed in wooden boxes. The haul was one of the largest illegal ivory seizures ever made in China. 
Mr Wan Ziming, Director of the Enforcement & Training Division in China's CITES MA opened the workshop with an introduction to CITES and its implementation in China. He spoke about the current situation regarding illegal wildlife trade in China, based on an analysis of relevant seizures from forest police and Customs, and highlighted where wildlife smuggling hot spots exist in Guangxi. 
He also spoke about the principal enforcement measures being implemented to deal with illegal wildlife trade in China, including the recent formation of China's National Inter-Agency CITES Enforcement Coordination Group (NICECG).
"We urge armed border policemen to prioritize scrutiny for wildlife trafficking during their daily patrols and to strive to keep this gateway shut," said Wan Ziming.
Other speakers included Mr Li Chun, former Deputy Director of the Kunming branch of the CITES MA, who spoke about existing wildlife laws and regulations, and Professor Huang Qun, Director of the Judiciary Identification Center of the National Forest Police Bureau, who drew on his experiences of various wildlife seizures to speak about the basic and effective skills for identification of endangered species and their products.
Ling Xu, TRAFFIC's Senior Programme Officer in China, gave an overview of the illegal wildlife trade and the methods used by smugglers to conceal their wildlife goods. Afterwards she said: "It was a fascinating experience to be involved for the first time in the training of border police in military camps." 
The meeting was part of recent intense efforts by the government in Guangxi to clamp down on illegal wildlife trade, which included collaborative enforcement actions between May and November 2011. 
Although full details are not yet to hand, roughly half as many seizures were made in this period compared to the total number made in Guangxi between 2006 and 2010. They included 134 wildlife criminal cases filed, 57 suspects arrested, 288 administration cases filed and seizures from 272 individuals. This resulted in the confiscation of around 30,000 protected wild animals, including more than 1,500 national first-class protected animals: monitor lizards, pythons, crocodiles and others; over 27,200 national second-class protected animals: pangolin, Black Bear and others; 41 elephant tusks plus 1,300 ivory products, and one rhino horn.
"The meetings last week served an important role in assisting China's border 'gatekeepers' to detect illegal wildlife trade more keenly and to play an ever-increasing role in disrupting wildlife trafficking routes," said Dr Jianbin Shi, Head of TRAFFIC's programme in China. 
"It is a significant step at provincial level to increase China's engagement on links to its southern neighbours such as Viet Nam, and to strengthening co-operation with the ASEAN Wildlife Enforcement Network."
The Guangxi meeting took place against a backdrop of enhanced enforcement efforts against wildlife trafficking more generally in the country: last week, the State Forestry Administration released details of a huge nationwide clampdown. 
During the operation, around 100,000 police officers were sent to inspect 5,962 markets, resulting in 13 gangs busted, 1,031 illegal traders punished, and more than 130,000 wild animals and 2,000 animal products being seized. Police officers also shut down 7,155 high-street shops and 628 on-line shops selling banned animals and removed 1,607 related online messages.
"TRAFFIC is delighted to see this display of real commitment and resources by relevant authorities in China towards tackling illegal wildlife trade; it is a serious crime that needs to be addressed with this kind of highly organized law enforcement response," said Dr Jianbin Shi. 
---