China kicks off new era of inter-agency co-operation on wildlife law enforcement
Beijing, China, 21st December 2011—A kick-off meeting of China's National Inter-Agencies CITES Enforcement Coordination Group (NICECG) was held in Beijing in order to enhance efforts by China's responsible government agencies to combat smuggling and illegal wildlife trade in China. 
---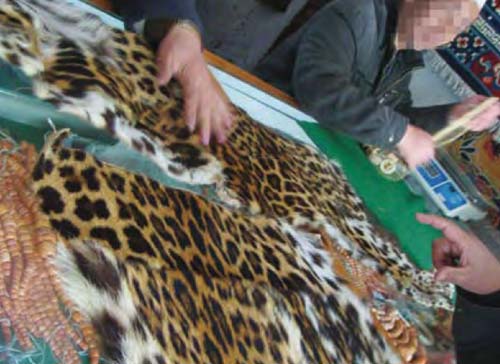 The meeting marked the formal establishment of the NICICG, and included high-level representatives from more than 15 agencies including the Convention on International Trade in Endangered Species of Wild Fauna and Flora (CITES) Management Authority, General Administration of Customs, Ministry of Agriculture, State Industry and Business Administration, Ministry of Public Security, and the Forest Police Bureau and Conservation Department of State Forestry Administration (SFA). 
A number of "liaison agencies" also participated including Ministry of Foreign Affairs, State Tourism Administration, Supreme People's Court, Supreme People's Procuratorate, National Development and Reform Commission, and Animal and Plant Inspection and Quarantine Administration. 
The meeting reviewed the progress of CITES-related law enforcement in China during the past three decades, analysed the challenges and problems facing wildlife law enforcement in the country, and planned major activities for the next 12 months. 
"The demand for wild animals and plants for traditional Chinese medicine and food is stimulating illegal trade and overexploitation of wildlife," said Madam Yin Hong, the vice minister of SFA and Chair of the Group. 
"With the establishment of the Coordination Group, we can enhance exchange and sharing of information, integrate and co-ordinate respective efforts and design and carry out joint enforcement actions to implement CITES better in China." 
The representatives at the meeting agreed to strengthen, through leadership and co-ordination roles, co-operation and collaboration among the agencies to improve the implementation and enforcement of CITES regulations. 
"Only through inter-agency co-operation and collaboration can we solve the problems facing us in enforcing CITES and in addressing illegal trade in wildlife," said Dr. Meng Xianlin, Executive Deputy Director-General of China's CITES Management Authority. 
Several priority joint enforcement actions will be undertaken under the co-ordination and leadership of the Group in 2012. 
"TRAFFIC has worked with these very agencies for the past decade and applauds the establishment of such a joint mechanism for CITES enforcement in China," said Dr Jianbin Shi, Head of TRAFFIC's China programme.
"With the challenges facing China at this time of economic ascendency, trade regulation can only be achieved through effective law enforcement co-operation, collaboration and communication between responsible government agencies." 
"TRAFFIC looks forward to close co-operation with the NICECG members to support their efforts to eliminate illegal wildlife trade in China."
---