Cameroon and Viet Nam law enforcement: reinforcing the foundations for sustainable and legal timber trade
Cameroon, 18-24 June 2023: TRAFFIC Central Africa and Viet Nam offices gathered Vietnamese law enforcement officials and their counterparts in Cameroon to share experiences on verifying timber legality along the Cameroon-Viet Nam timber trade route and promote sustainable and responsible trade in the timber industry.
---
Viet Nam's timber sector is a dynamic, export-driven industry which has been expanding annually. Since 2021, Viet Nam has been the second-largest exporter in Asia (after China) and the fifth-largest in the world in terms of timber export value.
However, Viet Nam has an active logging ban on its natural forests. While Viet Nam's domestic plantation is significant and increasing, timber from this source remains small-scale, is considered to be inferior to tropical hardwood and therefore, the majority is exported as woodchip. Consequently, Viet Nam relies on imports to feed its timber industry, mainly consisting of logs and sawn timber. These amount to 5-6 million m3 Round Wood Equivalent (RWE) annually.
Cameroon remains one of Viet Nam's most crucial log supply sources, with approximately 300,000 – 400,000 m3 of logs imported annually – around two-thirds of Viet Nam's total tropical timber imports in 2021.
Along the supply chain, timber trafficking puts countries at risk of trading timber from illegal sources, with timber imported from Cameroon considered high-risk. Consequently, Viet Nam and Cameroon have been working together to ensure legality compliance for timber exports and re-exports from Cameroon to Vietnamese markets.
The need to promote legally sourced timber while stopping illegal timber smuggling has been at the heart of a law enforcement exchange visit between Cameroon and Viet Nam, held in Cameroon from 18 to 24 June 2023, and organised by TRAFFIC Central Africa and Viet Nam offices.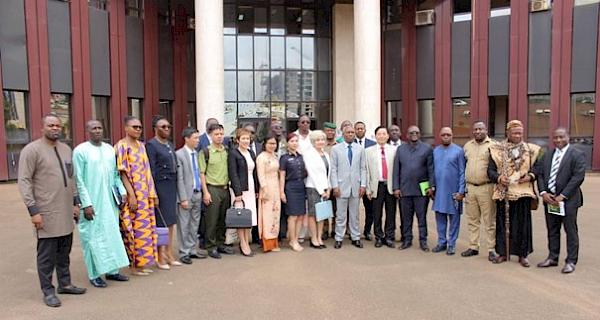 This mission gathered five Vietnamese delegates from the Vietnamese High Official from the Ministry of Agriculture and Rural Development, Vietnamese Customs, the project leaders from two TRAFFIC offices, and partners from Cameroon, including Representatives from the Network of Traditional Leaders for the Sustainable Management of Ecosystems in Central Africa (ReCTrad), the Central African Forests Commission (COMIFAC) Executive Secretariat, the Central African Network of Forestry and Environmental Training Institutions (RIFFEAC) Regional Coordination and Cameroon Customs.
The overall objective of the exchange visit was to familiarise the Vietnamese delegation with the Cameroon timber sector and trade at the international level and understand the legality requirements in the forestry sector in Cameroon and some of the key actors of the timber supply chain.
During the meeting with MINFOF to present the entire schedule of the mission, His Excellency Mr. Jules Doret Ndongo, Minister of Forestry and Wildlife of Cameroon, while thanking TRAFFIC for the organisation of the visit and highlighting some facts between the two countries, further said: "It is always important welcoming delegations such as the Viet Nam one in Cameroon, this gives us the opportunity of knowing the trend and dynamic of timber trade between the two countries, but more importantly helps to understand discrepancies in volumes in trade and a need of working in close collaboration between our different administrations to overcome these issues".
The trip provided the Vietnamese delegates with a good overview of the forestry sector and timber supply chain in Cameroon through face-to-face meetings with different stakeholders and field trips, such as the visit to a timber processing unit in the Capital area.   
"We came and saw the richness of Cameroon's forests. We have been impressed by the Minister of Forestry and Wildlife's leadership, and we can go back with the confidence of keeping good contact to support each other in promoting legal timber from legal sources", mentioned Mr. Nguyen Van Dien – Deputy in charge at the Information and Digital transformation Division – Forest Protection Department – Ministry of Agriculture and Rural Development, Viet Nam.
The exchange visit achieved its main objectives of bringing the key project partners from Africa and Viet Nam sides closer together, offering good opportunities for networking, increasing our timber trade knowledge, and sharing practical case studies. Under the scope of the current project, there are opportunities for TRAFFIC to continue to influence and provide guidance and facilitation to the different level government agencies on securing bilateral MOUs/agreements for more robust and sustainable trade, mainly in the timber industry between Cameroon and Viet Nam."
Mrs. Nguyen Tuyet Trinh, Programme Office Director-TRAFFIC Viet Nam.In conclusion, Cameroon and Viet Nam governments agreed to continue their collaboration by updating the MOU on the forestry sector between the two countries. They acknowledged the vital need for increasing mutual information exchanges, especially from experienced and reputable experts and enterprises regarding legal timber supply, and the importance of exchanging real-time data between the countries' Customs Administrations. The exchange visit has proved to be a vital component in strengthening the foundations for sustainable and legal trade along the Cameroon-Viet Nam timber trade route.
---
Notes:
The exchange visit was organised as part of the 5-year project funded by NORAD NICFI on Leveraging legality of China's timber supply to reduce deforestation, in close collaboration with Customs and the Ministry of Forestry and Wildlife in Cameroon, and Customs and the Ministry of Agriculture and Rural Development in Viet Nam.
---
About Norway's International Climate and Forest Initiative (NICFI):
NICFI supports efforts to reduce greenhouse gas emissions resulting from deforestation and forest degradation in developing countries through efforts to improve forest and land management in tropical forest countries and reduce the pressure on tropical forests from global markets.