Traditional medicine producers encouraged to adopt sustainable plant harvesting practices into their corporate social responsibility
Hanoi, Viet Nam, 17th November 2017—Representatives from more than 25 traditional medicine and pharmaceutical producers joined a workshop today in Hanoi, focusing on promoting sustainable harvesting and fair trade practices as part of their corporate social responsibility (CSR), in particular through application of the FairWild Standard.
---
The workshop, organized by TRAFFIC in partnership with the Vietnam Chamber of Commerce and Industry (VCCI), gave attendees a greater understanding of how medicinal and aromatic plants are harvested, processed, and traded.
The event included sessions on CSR opportunities related to sustainable plant collection and environmental protection where the FairWild Standard was introduced as the beneficial model to underpin such efforts.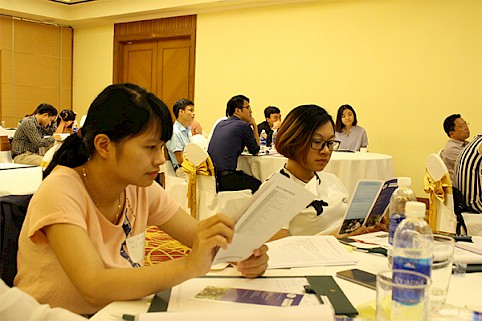 The FairWild Standard is an internationally recognized best practice framework, developed by a number of organizations including TRAFFIC, to verify the sustainable and equitable trade in wild plants, fungi and lichen. FairWild also provides third-party certification so that consumers can be given assurance that their product has been sourced using sustainable methods.
Attendees were given guidance on the legislation surrounding plant harvesting and on the importance of safeguarding plants for the use of future generations. Community development was also a major topic of discussion, with speakers emphasising how fairer trade practices resulted in higher living standards for the harvesting communities and contributed to a more consistent, better quality product.
"There is a tremendous opportunity here for companies to establish fairer trading practices, build capacity and enhance livelihoods in the communities that provide them with the ingredients for their products," said Madelon Willemsen, Head of TRAFFIC's Viet Nam office.
"Through integrating these practices into their corporate social responsibility, companies can help secure their businesses into the future, protect the environment, and send a clear message to consumers, investors and local communities that they are not simply prioritizing the bottom line but are also focused on making responsible decisions for the environment and the people of Viet Nam."
| | |
| --- | --- |
| | The workshop was funded by the Darwin Initiative, a UK government programme with a focus on biodiversity projects. |
---