Tiger campaign goes online
Beijing, China, March 2010 – An online tiger conservation campaign was launched in March by TRAFFIC in collaboration with Renren.com, a popular Chinese social network site. 
---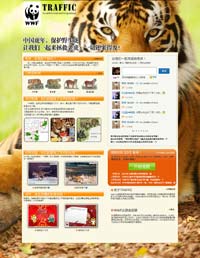 The campaign includes an introduction to tiger conservation, commitments to rejecting tiger products and a tiger quiz. There is also tiger wallpaper available for download to a computer. The organizers expect to attract dozens of active participants and quiz takers over the coming weeks. 
The 50-question quiz on tiger conservation tests participants' knowledge of the current perilous situation of wild tigers, threats to their survival, illegal trade in tiger products as well as TRAFFIC's ongoing efforts to conserve wild tigers. 
If participants commit not to buy any tiger-related products, their signature is changed to incorporate the commitment and thereby attract more people to participate. 
The online activity is part of WWF and TRAFFIC's year of the tiger campaign, which began in February. 
As part of the campaign, TRAFFIC recently released a report into the State of Wildlife Trade in China 2008, which reported on the availability of tiger and other threatened wildlife products in China and in border areas.
---