Pangolins still high on the wanted list
Kuala Lumpur, Malaysia, 5th January 2010—Illegal harvesting and trade in pangolins (scaly anteaters) escalated over the past decade, and the end of 2009 saw no reprieve, with a series of pangolin seizures in Southeast Asia, including the discovery of a 700 kg consignment of pangolin meat in Indonesia. 
---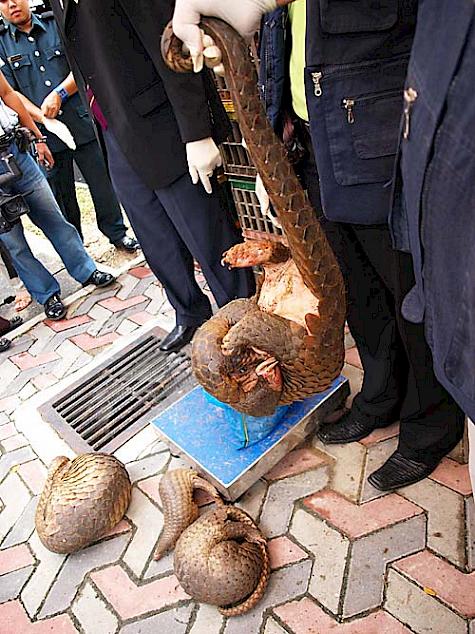 On 18th December, Malaysian Police arrested two men as they were loading 130 pangolins into modified compartments of two cars in a cemetery on the east coast town of Kuantan. News reports quoted Pahang State Wildlife Department director Khairiah Mohd Shariff saying that the smugglers had planned to take the pangolins to the capital, Kuala Lumpur, to be skinned, before being transported to Peninsular Malaysia's southernmost State of Johor, for export. She said the two men arrested would be charged. 
Earlier, on December 15, Marine Police seized 62 pangolins in the town of Muar, Malaysia. Eighteen live pangolins were found in sacks in two cars parked in front of the smugglers' house, 13 more live pangolins were found in the living room and another 31 frozen ones were discovered in a refrigerator in the house. News reports said authorities believed the pangolins had been smuggled in from Indonesia, via illegal jetties along the Muar-Malacca shores. Initial investigations revealed the smugglers had rented the house a month before the raid and had used it to store animals they intended to sell abroad.
The same week, Indonesian police busted a pangolin smuggling syndicate operating out of a store in Kota Lubuk Linggau in Southern Sumatra. They seized 14 live and one dead pangolin in the operation and arrested four men, including a buyer, in the operation that was based on a tip-off.
A few days earlier, Indonesian authorities destroyed 763 kg of pangolin meat confiscated at Soekarno-Hatta International Airport, Jakarta. Indonesia's Forestry Minister Zulkifli Hassan was quoted as saying the meat was packed in 24 boxes and was intended for use as an ingredient in aphrodisiac tonics produced overseas. He also told press that the poaching of protected wildlife in Indonesia had increased by three percent.
Demand for the threatened animals is relentless, despite international protection and despite awareness raising efforts in range States and consumer countries.
In 2000, Parties to CITES (the Convention on International Trade in Endangered Species of Wild Fauna and Flora) agreed a zero export quota for Asian pangolin species removed from the wild and traded for primarily commercial purposes. 
"Enforcement officers in the region are to be congratulated on their recent successes against those trading wildlife illegally in the region," said Chris R. Shepherd, Acting Director of TRAFFIC Southeast Asia. 
"But stronger penalties are needed to deter these criminals, who care nothing for the devastation they are wreaking on Asia's natural resources. 
"Let's hope 2010 is a better year for pangolins." 
---