India launches Tigernet
Delhi, India, 7th January 2010—A website launched this week by Mr Jairam Ramesh, Hon. Minister of State (Independent Charge), Ministry of Environment and Forests will give Tiger reserve directors and chief wildlife wardens in India the ability to key-in crucial information about Tiger deaths, poaching and seizures.
---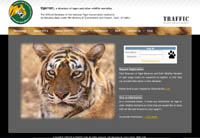 The Tigernet website, at www.tigernet.nic.in, will be the first consolidated database on mortality and poaching related to Tigers and other protected species within Tiger reserves.
Gathering accurate information on such Tiger activities is crucial to assisting anti-poaching efforts.
The new system will allow enforcement officers to record information on Tiger mortalities, to monitor patterns of where poaching incidents are occurring and use this information to strengthen anti-poaching efforts.
TRAFFIC has helped develop the new website, in collaboration with the government's National Tiger Conservation Authority (NTCA).
The information will be available in the public domain, while Field Directors and Chief Wildlife Wardens will be required to log in to key in information on Tiger-related issues.
The accurate reporting of Tiger deaths and the circumstances surrounding them has been a contentious issue in India, with conflicting information from official sources and NGOs, and accusations of secrecy over some findings.
It is anticipated the new website will simplify the whole Tiger death reporting system and allow a more accurate and transparent picture to be generated of the poaching and other threats facing the nation's Tiger population. Automatic reminders will be sent to official staff to upload details surrounding any Tiger mortalities, including the findings of post mortem examinations. The NTCA recently made funding available for the purchase of cold storage facilities so Tiger carcasses can be preserved until a thorough post mortem can be carried out.
---