New RAFT for surfers
Bangkok, Thailand, 24th December 2010—RAFT the five-year Responsible Asia Forestry and Trade Program, funded by USAID to promote improved forest management and bring transparency to the timber trade in Asia, has launched a new website: www.responsibleasia.org. 
---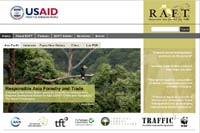 TRAFFIC is one of seven RAFT implementing partners; others include IUCN, WWF's Global Forest & Trade Network (GFTN), RECOFTC – The Center for People and Forests, the Tropical Forest Foundation (TFF) and The Forest Trust (TFT), while the overall program is managed by The Nature Conservancy (TNC).
RAFT is helping to improve forest management and trade, linking policy and corporate practices in the Asia-Pacific region, and works with government, industry, inter-governmental organizations, and research institutions, among others.
RAFT works in Cambodia, China, Indonesia, Lao PDR, Malaysia, Papua New Guinea, Thailand and Viet Nam.
The new website provides information on RAFT, plus background information on RAFT implementing partners and a resource area where technical guides for improved forest and supply chain management, as well as briefs and reports on key forestry and trade issues, including legality, REDD+ and options for regional collaboration to support legal and sustainable trade, can be downloaded.
So, to keep up with the latest developments in the Asia-Pacific forestry sector, your first stop should be the new RAFT website, at www.responsibleasia.org.
---