CITES CoP18 report, international lizard trade, certification of wild plant trade and more in the latest TRAFFIC Bulletin
Cambridge, UK, 7th November 2019—a diverse array of current wildlife trade-related topics is covered in the latest TRAFFIC Bulletin, published online today. They range from a comprehensive overview of the 18th meeting of the Conference of the Parties to CITES (CoP18) and the challenges of the post-2020 global biodiversity framework, through to voluntary certification of wild plant trade, to online trade in Sun Bears.  
---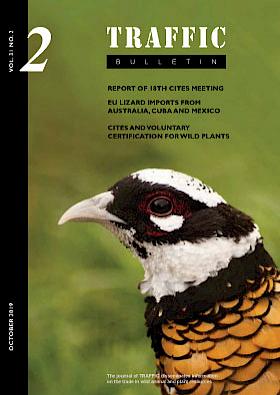 Anastasiya Timoshyna, TRAFFIC's  Senior Programme Co-ordinator – Sustainable Trade, introduces the latest edition with an editorial examining what CITES's role should be in facilitating sustainable and legal international wildlife trade.
News of the latest developments and expansion of the Trade in Wildlife Information eXchange (TWIX) platforms that connect enforcement officers across Europe and now parts of Africa precedes an in-depth evaluation of the key decisions and resolutions passed by representatives of governments worldwide who attended the 18th meeting of the Conference of the Parties to the Convention on International Trade in Endangered Species of Wild Fauna and Flora (CITES CoP18). 
An analysis of online trade in lizards focuses on Australia, Cuba and Mexico as source countries and the European Union (EU) as a major destination market and documents dozens of species and thousands of individuals in trade over a six-month period. 
Indonesia's online trade in Sun Bears comes under scrutiny in a report authored by experts from Monitor Conservation Research Society. They found regular reports of Sun Bear parts for sale on social media websites. The main commodities recorded for sale in terms of frequency and abundance were bear claws followed by bear teeth and live bears.
An article on CITES and voluntary certification for wild medicinal and aromatic plants (MAPs) presents findings of a project implemented by TRAFFIC in collaboration with and support from the German Agency for Nature Conservation (BfN) in 2018–2019. The project's aim was to identify how the application of voluntary certification standards (VCS) to CITES-listed MAPs might assist with the implementation of CITES and fulfilment of the Convention's requirements.
A popular, regular feature is the round-up of some of the more signficant seizures and prosecutions of wildlife cases that have taken place in recent months. 
Now in its 31st volume, the TRAFFIC Bulletin remains the only journal dedicated exclusively to international wildlife trade issues and associated conservation concerns.
We work hard to keep the Bulletin open source and available free of charge as the issues we cover are among some of the most pressing conservation topics of our time. You can support our work to keep the Bulletin free and help us get it into the hands of those able to bring about lasting change for wildlife. Visit our support page to make a contribution.
---