Illegal pangolin trade in Myanmar booming
Petaling Jaya, Malaysia, 31st December 2015—Illegal trade in live pangolins, their meat, and their scales in the Special Development Zone of Mong La, Myanmar, is booming according to a study co-authored by TRAFFIC published this week in Global Ecology and Conservation. 
---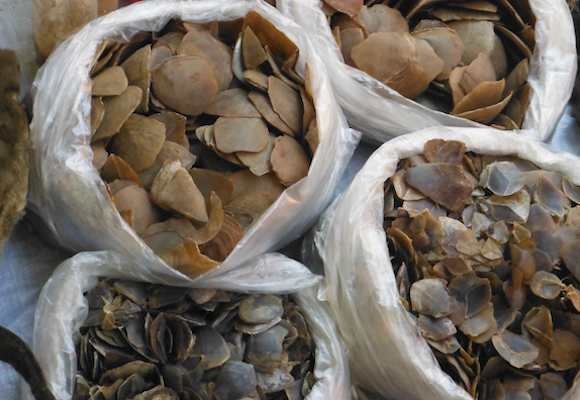 Surveys of Mong La's morning market, wildlife trophy shops and wild meat restaurants by the paper's authors during four visits from 2006 to 2015 found 42 bags of scales, 32 whole skins, 16 foetuses or pangolin parts in wine, and 27 whole pangolins openly for sale, clearly indicating this town is as a significant hub of the pangolin trade. 
The origin of the pangolins offered for sale in Mong La appears to include pangolins sourced from Myanmar itself, as well as from neighbouring countries, and potentially Africa—ivory, rhino horn and hippo teeth from Africa have all been observed in recent years in this market.
Myanmar is an important transit country for the smuggling of pangolins and other wildlife. Mong La is situated in the Shan State of Myanmar on the border with China, and caters exclusively for the Chinese market, where demand for pangolins is high.
Data from 29 seizures in Myanmar and 23 from neighbouring countries (Thailand, India, China) implicating Myanmar as a source of pangolins or as a transit point for pangolins sourced in other countries, in the period 2010–2014, reveal that a combined total of 4339 kg of scales and 518 whole pangolins have been seized, according to the study. 
Trade in pangolins, their parts of their derivatives is prohibited by law in Myanmar.  Furthermore, all Asian pangolin species are listed in Appendix II of the Convention on International Trade in Endangered Species of Wild Fauna and Flora (CITES) with a zero-quota which means international trade is not allowed. 
"Ongoing demand and unopposed wildlife crime networks are pushing all four of Asia's pangolins towards the brink of extinction" said Dr Chris R. Shepherd, Regional Director of TRAFFIC in Southeast Asia. "Collaboration between governments in Asia is needed to reduce cross-border trade significantly, to prevent these amazing species from being lost forever."   
TRAFFIC strongly urges the Myanmar Government to liaise with regional authorities to tackle the illegal pangolin trade and to resolve the illicit cross-border trade of wildlife.
The open-access paper, Pangolin trade in the Mong La wildlife market and the role of Myanmar in the smuggling of pangolins into China (PDF, 1.6 MB) is published in Global Ecology and Conservation. 
---