"Don't Buy Trouble" campaign launched at Noi Bai airport
Ha Noi, Viet Nam, 13th May 2010—Members of the Vietnamese Government, environmental enforcement agencies, conservation NGOs, airport authorities and national media outlets gathered this week for the launch of a new anti-wildlife trafficking campaign at the Noi Bai airport in Ha Noi.
---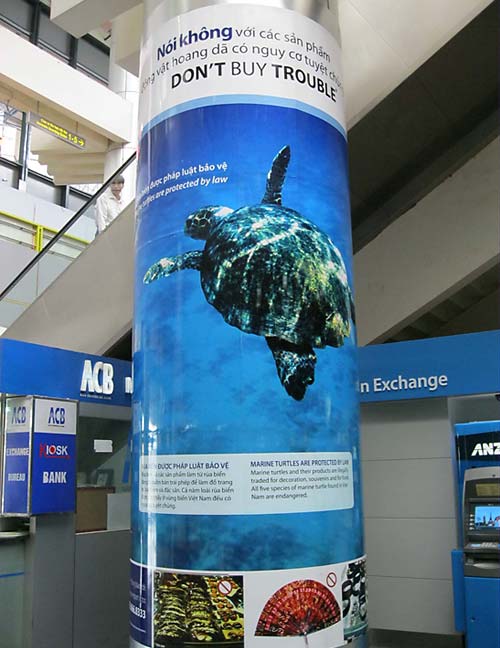 The "Don't Buy Trouble" campaign consists of 15 evocative posters of some of Viet Nam's most common illegally traded species, including Tiger, bears, elephant, rhinoceros, marine turtles, and pangolins (scaly anteaters). The posters warn that such species are protected by law and the trade in their products could result in fines and/or prosecution. 
Also included in the exhibit is a permanent glass case display in the departures area, which will allow passengers waiting for flights to peruse information on wildlife trade in the region and see replicas of comonly encountered illegal wildlife products.
"Raising awareness among travellers regarding wildlife protection laws will be essential in halting the illegal and unsustainable trade that is pushing many species towards extinction in Viet Nam and across Southeast Asia," said Mr Phạm Văn Linh, Vice Chairman of the Central Committee for Communications and Education (CCCE), an advising agency to the Communist Party of Viet Nam and the lead organizer of the airport campaign. 
Wildlife is commonly trafficked through airports worldwide, which also makes this transport hub a good place to educate people about the problem. Viet Nam, like other countries in South-East Asia, has developed in recent years as a source, consumer, and conduit for illegally traded wildlife products, with networks stretching worldwide. Noi Bai is Viet Nam's largest international airport in the north, serving nearly 4 million passengers annually, and was chosen as a prime location in the battle against the regional illicit wildlife trade. 
The "Don't Buy Trouble" campaign was first introduced in India at New Delhi's domestic and international airports.
"Bringing this successful campaign to Ha Noi will highlight the global nature of wildlife trafficking and demonstrate that Viet Nam is serious about halting this crime," said Tom Osborn, Co-ordinator of the Greater Mekong Programme of TRAFFIC. TRAFFIC is providing technical advice for the airport exhibit.
Joining CCCE as the lead government organizer is the Ministry of Transportation, with assistance from TRAFFIC, WWF, Northern Airports Corporation, the Forest Protection Department, Environmental Police. 
The campaign is funded by DANIDA and Intrepid Travel and designed by Galaxy Creative. The exhibit is one activity under a four-year Wildlife Trade Campaign funded by the Embassy of Denmark and led by TRAFFIC and WWF that aims to raise awareness and change consumer behaviour regarding wildlife consumption.
---