Clouded and Dumeril's Monitor Lizards seized in Malaysia
Kuala Lumpur, Malaysia, 17th April 2009 - Wildlife and National Parks department officers chased down and stopped a lorry carrying 1,202 clouded monitor lizards along a highway in the state of Pahang, Malaysia on Wednesday.
---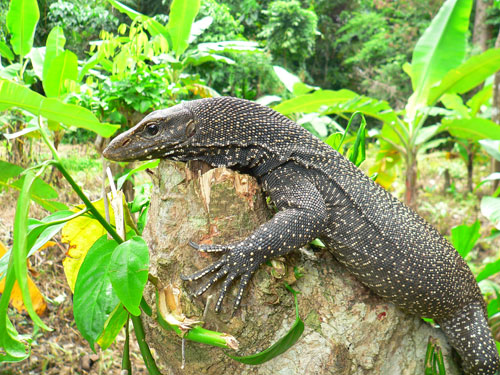 The officers from Pahang, joined by their counterparts from the department's Wildlife Crime Unit in Kuala Lumpur, gave chase when a five-tonne lorry they flagged down near a rubber estate, refused to stop. The officers discovered the live lizards tied in bags and stacked at the back of the lorry. Initial investigations revealed the lorry driver and two assistants had come from the southern state of Johor to buy the lizards from indigenous people who caught them in areas along the east coast of Peninsula Malaysia.
The clouded monitor lizard which is totally protected under Malaysian law is in high demand for its meat.
The department director Khairiah Mohd Shariff was quoted saying that the department believed this haul, worth an estimated RM60,000 (USD16,577), was destined for restaurants overseas. Based on information from this seizure, the team later raided the home of a man in an indigenous peoples' settlement nearby and seized another 34 more Clouded Monitor Lizards and two Dumeril's Monitor Lizards that he had hidden behind the house. News reports said the 55-year-old man was believed to have been catching the endangered lizards in the forest and selling to middlemen. All the lizards have since been released back into the wild.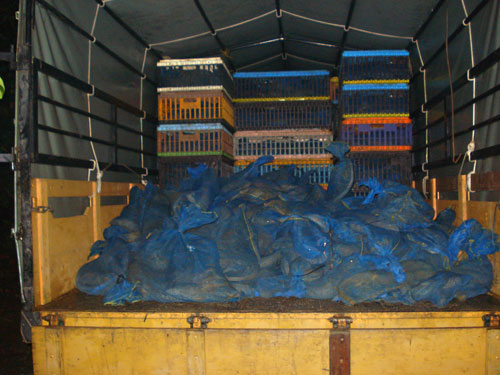 Several major seizures over the last year have highlighted just how large the illegal trade in Clouded Monitor Lizards is.
A number of these have taken place in Pahang where the authorities have recently stepped up efforts and made several significant seizures.
In January officers seized 2,330 live Clouded Monitor Lizards and arrested three men in the state. Last April, authorities found 200 wok-bound lizards during a random check in an oil palm estate in Pahang. A shipment of 600 of Clouded Monitor Lizards was also seized at the Kuala Lumpur International Airport last year. However, these seizures were dwarfed by the case in November 2008, in which authorities found over 7,000 live Clouded Monitor Lizards in two raids in Johor.
---