ASEAN Countries Make Major Progress on Wildlife, Habitat Conservation
Pattaya, Thailand, 14th April 2009 – In a major step forward, the ASEAN-Wildlife Enforcement Network (ASEAN-WEN) conference concluded on April 12 with strong commitments by Asian governments and international partners to coordinate enforcement efforts in a concerted effort to halt wildlife crime and habitat depletion.
---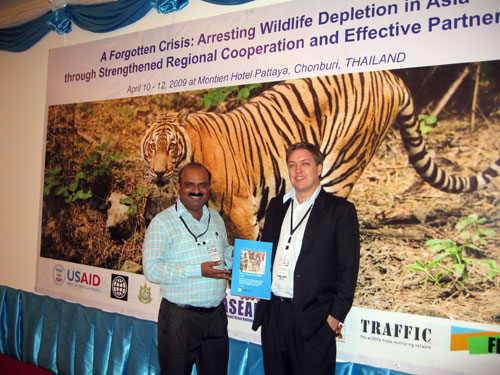 The agreement came at a meeting, "A Forgotten Crisis: Arresting Wildlife Depletion through Strengthened Partnerships and Regional  Cooperation," that was held April 10-12 in Pattaya, Thailand.
ASEAN-WEN is the region's largest environmental law-enforcement network. It links scores of environmental agencies, police organizations, customs bureaus and members of the judiciary from all 10 ASEAN member countries to share intelligence, conduct investigations, and train officers to combat wildlife trafficking and implement international and national laws regulating wildlife trade.
The Pattaya conference was hosted by the Government of Thailand and sponsored by the World Bank, ASEAN-WEN, the Save the Tiger Fund, TRAFFIC, the U.S. Agency for International Development, and the FREELAND Foundation.
With illegal trade in wildlife estimated at over $10 billion across Asia, second only to weapons and drug smuggling, participants at the conference made a call to action, with agreement on a new wildlife Manifesto, "Combating Wildlife Crime in Asia," supported by ASEAN Secretary-General Surin Pitsuwan, Thailand Minister of Natural Resources and Environment H.E. Suwit Khunkitti, and World Bank President Robert Zoellick.
Mr. Zoellick, in his message said, "ASEAN members, other interested countries in Asia, and a powerful coalition of partners in civil society with strong support from the World Bank have come together today to tackle wildlife crime head on and to take smart steps – immediate steps – to coordinate a regional law enforcement response to protect endangered species and protect habitats. The tiger is one sad example of a threatened species that we must protect. The World Bank has joined with other partners to help save the wild tigers of Asia, whose numbers have declined over the last century from 100,000 to less than 4,000. We congratulate the participants for these outcomes and thank the Government of Thailand for hosting this important event."
A major effort by the World Bank is under way and gaining momentum, the Global Tiger Initiative. It was launched last year by the Bank as an international collaborative platform dedicated to saving wild tigers and mainstreaming biodiversity. The delegates began preparations for the Year of the Tiger Summit in 2010 that will bring high-level political commitment to save the wild tigers, Asia's religious and cultural icon, and the symbol of environmental sustainability.
Despite the efforts of individual governments and conservation organizations, wild tigers and many other endangered wildlife species are silently disappearing from the Asian landscape. Saving them requires a concerted multinational effort with support from top political leaders and international organizations. Since its inception in 2005, ASEAN-WEN has become a successful model for regional cooperation in transnational law enforcement on illegal wildlife trade.
The Secretary-General of ASEAN, Dr. Surin Pitsuwan, reflected on the achievements of this week's conference, saying, "We have a unique, diverse, and rich biodiversity that needs to be protected carefully. We must all work together to conserve our natural heritage. I commend the World Bank for its strong support to ASEAN-WEN to prevent and combat against the threat to the wildlife of ASEAN and Asia."
Participants included ASEAN government delegations and representatives from about 20 countries, including 10 non-ASEAN countries, international organizations, and numerous NGOs active in wildlife and biodiversity preservation. They discussed and identified a series of factors which drive and encourage illegal trading. The Manifesto will help develop the Southeast Asia and South Asia wildlife enforcement networks into fully effective and sustainable platforms. These will have specially trained wildlife crime task forces within the national police forces and other enforcement agencies to track, monitor, investigate and share cross-border information and to stop illegal wildlife trade and arrest traffickers in the region.
"Just as the financial crisis has shown that our economies are all intricately related, 
wildlife crime and its impacts are cross-border and global. All Asian countries, as well as non-Asian countries, must come together to solve this forgotten crisis," said Thai Minister of Natural Resources and Environment Suwit in a statement. The ministry offered to set up a ministerial steering group of tiger range states this year. This is significant change and signals high-level political support for the recommendations of the Manifesto.
The results of a new report, What's Driving the Wildlife Trade?, were also presented at the workshop. The study, jointly conducted by TRAFFIC and the World Bank, reported on the economic and social drivers of wildlife trade in Cambodia, Indonesia, Laos and Vietnam.  Full report can be downloaded here.
Civil society groups applauded the Thai Government and World Bank for their pledges. "The Thai Ministry of Natural Resources and Environment and World Bank have done the right thing by listening to conservation stakeholders and taking their message to the highest levels in Asia," said Kraisak Choonhavan, Chairman of FREELAND Foundation, "We now hope Asia's leaders will listen."
---