Chinese Customs examine use of wildlife detector dogs
Beijing, China, 5th December 2011—Some of the world's leading experts on the training and use of wildlife detector dogs met last week in Beijing to exchange information and expertise with their counterparts among China's Customs officials. 
---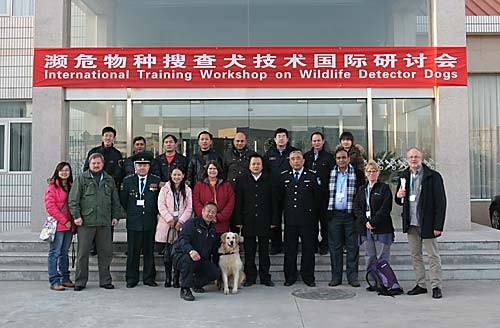 The meeting, the first of its kind to be held in China, was organized by the General Administration of Customs of China (GACC) in collaboration with TRAFFIC's China Programme.
Illegal wildlife trade remains a concern in China, and law enforcement poses significant challenges given the country's large population, vast landmass and extensive land and sea borders. 
Trade in threatened wildlife is regulated under an international agreement, the Convention on International Trade in Endangered Species of Wild Fauna and Flora (CITES). 
According to Mr Ziming Wan, a representative of China's CITES Management Authority: "CITES recognizes the importance and necessity of deploying wildlife detector dogs, and thus encourages those states with experience in training and using dogs in this way to share their experience with others."
Countries such as Germany, India, Kenya, Russia, Thailand and the UK all have wildlife detector (sniffer) dogs as part of their detector dog programmes, and they are proving to be a highly effective enforcement tool, both to detect smuggled wildlife goods and to act as a deterrent.
"We have more than 8 years experience in training and deploying wildlife detector dogs at airports and are glad to share our experiences and co-operate with our Customs colleagues here in China," said Jane Sharp, Dog Unit Team Leader of the UK Border Agency, based at Heathrow Airport. 
The meeting was held in response to the rising number of cases where illegally traded wildlife products, such as elephant ivory and agarwood, have been found at China's ports. 
Officials aim to stop such trade through the deployment of wildlife detector dogs. The first dog in China specifically capable of locating wildlife products is currently being trained at Beijing's Drug Detector Dog Training Center. 
"This workshop came just at the right time for us," said Mr Xiangying Guan, a Division Chief of GACC's Anti-smuggling Bureau.
"Compared to some other countries, China has been at the early stage in training and using wildlife detector dogs, but this workshop has given us the opportunity to learn from the experts, which will help us greatly in the development of a wildlife detector dog programme in China."
TRAFFIC has previously facilitated the development of wildlife detector dog programmes in a number of countries, including Germany, India and Thailand. 
For over a decade, TRAFFIC and WWF Russia have assisted with the implementation of such a programme on the Russian side of the Amur-Heilong border in northeastern China. 
Enforcement officers from Russia and China recently met in Vladivostock to learn about the use of sniffer dogs to detect and deter the trafficking of parts of Tiger, bear and other threatened species. 
"This week's meeting marks the start of what will surely prove to be a fruitful collaboration between TRAFFIC and GACC, which will move the detection and prevention of wildlife crime in China to a whole new level," said Dr Jianbin Shi, Head of TRAFFIC's China Programme. 
This workshop, which included participants from China, Germany, India, Nepal, Russia and the UK, was partly funded by WWF International.
---