TRAFFIC trains Vietnamese enforcement officers on timber identification
Phu Yen, Viet Nam, 25th July 2020—TRAFFIC has helped build capacity for customs and forestry officials  at a two-day workshop held in Phu Yen province. The event, held in partnership with the Viet Nam Administration of Forestry and the Customs Department, trained officers on timber identification and import/export violations to help stem the illegal flow of timber through Viet Nam. 
---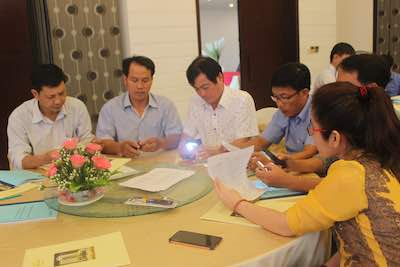 Forty customs and forest protection officers from the Central Coast region attended the workshop, which was held as part of TRAFFIC's Reducing illegal timber exports from Cameroon and Viet Nam project, funded by the UK's Department for International Development.
The event featured presentations designed to build officers' confidence in recognising regulated timber species, which are often intentionally mislabeled by traffickers when smuggled across the Vietnamese border. It also educated officers on which other parts of the import/export process violations can occur. 
"The customs force is not well trained in forestry or timber identification, this is one of the major difficulties for this force," said. Ngo Minh Hai, former deputy director of the Department of Management Supervision, Customs Department and a trainer at the event.
Hai said that other infractions in the process include misstatements on Customs and tax declarations, time limit violations for Customs procedures and tax payments, and misstatements on customs values or on the origin or quantity of goods.
Viet Nam is a leading timber transit market, with timber exports valued at more than USD11 billion in 2019. However, the source of the timber being imported into the country is not always clear, leading to concerns that the industry is supporting illegal timber trade. 
In June 2019, Vietnam signed a Voluntary Partnership Agreement on Forest Law Enforcement, Governance and Trade in Forest Products with the European Union (EU). Central to the agreement is the use of its timber legality assurance system, a mechanism that ensures sustainability in timber product trade. Training on both the agreement and the timber legality assurance system was also provided at the workshop.
"Increased coordination between customs and forestry officials is integral to countering timber trafficking. These training courses offer an opportunity for the two groups to share experiences and build a relationship while learning more about how to recognise timber import violations," said Cuong Nguyen, senior project officer at TRAFFIC in Viet Nam.
---