Chinese authorities cracked down on nearly 12,000 wildlife crime cases in three months
A multi-departmental '2022 Qingfeng Action' law enforcement operation, coordinated by China's National Forestry and Grassland Administration (NFGA) targeted illegal wildlife trade at various stages, including harvest, purchase, transport, import/export, and resulted in more than 100 million yuan (~USD14.8m) in fines. 
---
According to an official release from the NFGA, this operation, which ran from 15 February to 15 May 2022, cracked down on nearly 12,000 wildlife cases, including 4,300 administrative cases and 7,500 criminal cases, and 719 criminal gangs, intercepting over 14,000 criminals with the confiscation of:  
More than 130,000 individuals of wild animals and plants
140,000 wildlife products weighing ~200,000 kg
97 tonnes of timber
46,000 pieces of illegal hunting gear and fishing gear 
It is encouraging to see cross-sectoral cooperation achieve such remarkable results in combating illegal wildlife trade in China. As wildlife traffickers tried to make up for the losses caused by COVID-19 travel restrictions and re-establish their unlawful business, China's law enforcement authorities delivered a timely and heavy blow to curb their momentum."
Ling XU, Director of TRAFFIC's China OfficeThe operation involved 11 authorities, including the NFGA, the Ministry of Agriculture and Rural Affairs, the Central Political and Legal Affairs Commission, the Cyberspace Administration of China, the Ministry of Public Security, the Ministry of Transport, the General Administration of Customs, the State Administration for Market Regulation, the National Railway Administration, the Civil Aviation Administration of China, and the State Post Bureau.  
Authorities significantly intensified the investigation and prosecution of smuggling illegal products of threatened species, including elephant ivory, rhino horn, saiga horn, pangolin, tiger and leopard, resulting in a total of 270 cases involving 13,000 products weighing over a tonne.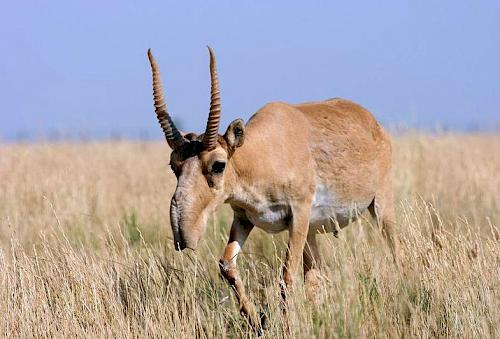 NFGA reports state that nearly 500 cases involving wild orchids, cycads, Cibotium, and other national protected wild plants were intercepted; over 700 cases involving migratory birds; over 1,000 cases involving totoaba and other aquatic wild animals; and over 3,600 cases involving illegal fishing in the Yangtze River.
Aside from such a significant number of seizures, it is necessary to recognise that China still needs to improve its relevant supporting systems for law enforcement, increase grassroots forces, strengthen the supervision of illegal wildlife trade online, and enhance publicity and education, as one spokesperson from the NFGA told the media.
In view of this, TRAFFIC will continue to provide support to the NFGA and other relevant authorities on combating wildlife crime in an efficient way through crucial information/intelligence sharing and law enforcement capacity building. At the same time, TRAFFIC will use its unique expertise to help the Chinese government reduce consumer demand for illegal wildlife products.  
Last month, TRAFFIC launched a set of SBC training sessions in China to advise the Chinese public and private sectors on how they can encourage responsible choices to reduce the global supply and demand of illegal wildlife products. A Social Behaviour Change (SBC) toolkit in Chinese developed by TRAFFIC last year is also available for free. 
"The draft CITES Guidance on Demand-reduction Strategies to Combat Illegal Trade in CITES-listed Species will be reviewed at the upcoming CITES CoP19. We hope the final version of the Guidelines will be used widely in China and other countries with major illegal wildlife markets. The implementation of demand reduction initiatives would bolster the efforts of law enforcement in combating these crimes," said Ling XU. 
---