Massive ivory and menagerie of wildlife parts seized in Malaysian port
Malaysia has made its biggest ivory seizure to date, confiscating six tonnes of elephant tusks hidden in a container that also carried rhino horns, pangolin scales and the skulls, bones and parts of other wildlife.  
---
The shipment, which originated in an unnamed country in Africa, was seized on 10 July 2022 after it transited through Abu Dhabi, UAE. The shipment was destined for the southern Malaysian port of Pasir Gudang, but was intercepted by authorities in West Port in Port Kelang.
The ship carrying the contraband had been under surveillance by Malaysian Customs, Dato Haji Zazuli Johan, the Director-General of the Royal Malaysian Customs told a press conference which TRAFFIC attended.
The items seized included 6,000kg of elephant ivory, 29 kg of rhino horn (14 horns and pieces), around 100kg of pangolin scales and more than 300 kg of other wildlife parts.
The shipment consisted of three containers, one of which hid the multitude of wildlife parts behind sawn timber. The other two containers were full of the same timber, which is commonly used by traffickers to hide African ivory and pangolin scales. The legality of the timber has yet to be verified.
The importer of the consignment and the shipping agent are under investigation. No arrests have been made.
This medley of threatened species in a single consignment is concerning. It certainly verifies the suspicion that criminals continue to use Malaysian ports to move contraband wildlife. Congratulations to the Royal Malaysian Customs for successfully intercepting what marks Malaysia's largest ivory seizure to date."
Kanitha Krishnasamy, Director for TRAFFIC in Southeast Asia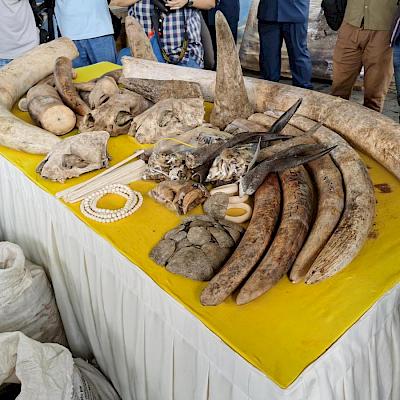 "This case also goes to show that criminals are bold enough to think they can get away with repeated attempts. Malaysia needs to prove them wrong. It's critical to look at past records and information on organised crime groups linked to the country because Malaysia must show that it can make arrests and successful convictions of wildlife criminals."
The case is being investigated under Section 135 (1) (a) Customs Act 1967 for importing uncustomed or prohibited goods.
Port Kelang has been the scene of several large-scale wildlife seizures with the last ivory seizure taking place here a decade ago. About half a tonne of elephant tusks from Cape Town, South Africa was seized in that instance.
In March 2020, 6,160 kg of pangolin scales in a 20-foot-container, hidden underneath a layer of sacks of cashew nuts was confiscated in Port Kelang. This port has seen the seizure of both African ivory and pangolin scales in the past decade.
The same applies to rhino horn trafficking: South Africa has made six seizures since July 2020, all reportedly destined for Malaysia. These six incidents resulted in the confiscation of 393kg of rhino horn. On 9 September 2021, Malaysian authorities seized 50 rhino horns and horn pieces from a vehicle near Kuala Lumpur International Airport and arrested two men. 
"TRAFFIC stands ready to support networking and collaboration that will drive joint investigations and stem the Africa-to-Asia smuggling of wildlife," said Krishnasamy.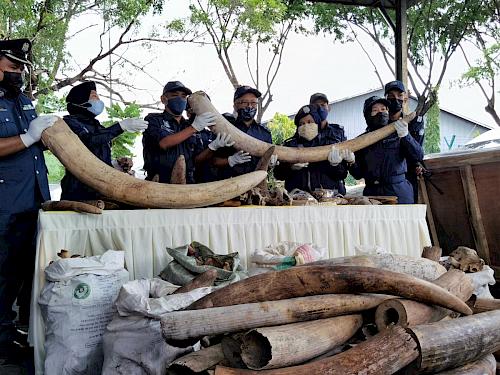 ---