Chi on display at Noi Bai Airport
Ha Noi, Viet Nam, February 2016—Posters featuring a successful businessman refusing gifts of rhino horn have gone on display in the International Terminal at Noi Bai Airport. 
---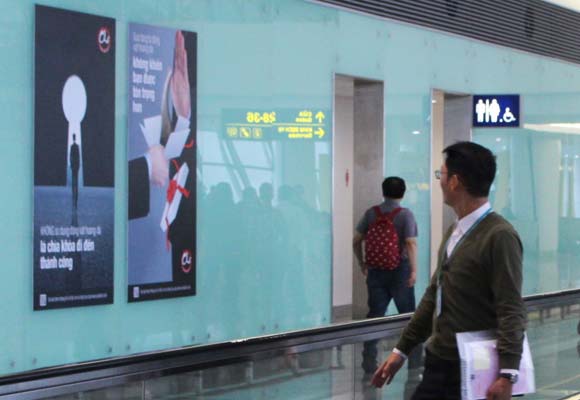 The images are the latest step by TRAFFIC and the Central Committee of Propaganda and Education (CCPE) in the consumer behaviour change Chi Campaign, which promotes the concept that respect and success come from a person's inner strength or "chi" and not from a piece of rhino horn.
Noi Bai International Airport has been identified as a significant throughway for illegally-traded wildlife parts: Customs officers seized over 155 kg of elephant ivory and 9 kg of rhino horn there in 2015. 
 "Through rejecting rhino horn and demonstrating that true strength and success come from within, the Chi Campaign also shows how responsible citizens have a role in protecting our environment," said Madelon Willemsen, Head of TRAFFIC's Viet Nam Office. 
To address the role of the transport sector in wildlife trafficking, Mr Bui The Duc, Vice Chairman of CCPE, asked the Ministry of Transport to direct the air transport sector and related agencies to commit to fighting illegal wildlife trade. 
"For efforts to be effective, it is crucial that airport staff and Customs officials have the knowledge, skills and commitment needed to enforce Viet Nam's laws against wildlife trafficking," said Mr Bui The Duc. 
"By committing to display the Chi Campaign posters until the end of 2016, the authorities at Noi Bai International Airport are taking important steps to protect wildlife as well as to counter the threats to national security and our national reputation posed by criminals poaching and trafficking wildlife in Viet Nam." 
Airline passengers can read more about "chi" in Vietnam Airline's inflight magazine, Heritage Fashion, which features a story about one man's pursuit of success as he relies on his inner strength. 
A "chi"-themed calendar, created jointly by TRAFFIC and CCPE, will provide 1,000 government officials with even more information about "chi" and wildlife protection.
---