India holds first national workshop on capacity building for effective wildlife law enforcement
Coimbatore, Tamil Nadu, 4th February 2016—India's first National Workshop on Capacity Building for Combating Wildlife Crime was flagged off today by the Honourable Minister for Ministers, Government of Tamil Nadu, Thiru M.S.M. Anandan at an inaugural ceremony organized at the Tamil Nadu Forest Academy, Coimbatore, Tamil Nadu. 
---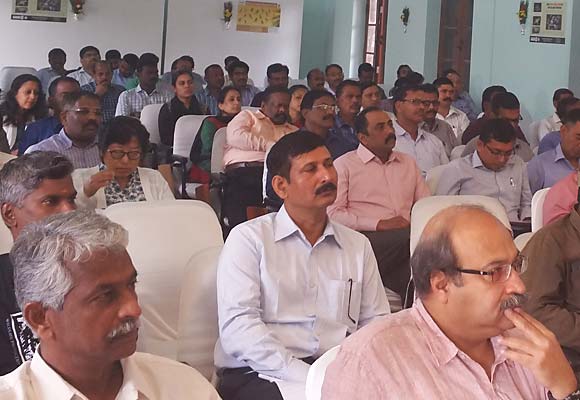 The National Workshop organized by TRAFFIC in partnership with the Tamil Nadu Forest Department, Tamil Nadu Forest Academy (TNFA), Wildlife Crime Control Bureau (WCCB), and WWF-India runs from 4-6th February 2016 at the Tamil Nadu Forest Academy, Coimbatore, Tamil Nadu. 
The workshop is the first of its kind where representatives from various wildlife law enforcement agencies from across India will undergo training to enhance their knowledge and skills for curbing poaching and illegal wildlife trade. The workshop will also be an important forum where discussions will lead to the development of a national level strategy and protocols for combating wildlife crime.  
Minister Anandan said: "Poaching and illegal wildlife trade are grave threats that endanger India's wildlife. Tiger, elephants, rhinos, and many lesser known species such as the monitor lizard, pangolins, turtle and tortoise species, parakeets, munias and other bird species are poached from the wild and smuggled across borders to international markets. Unfortunately, India's rich wildlife is always a target for poachers, wildlife smugglers and international traders and this threat needs to be curbed in order to secure the future of Indian wildlife. 
 
"The Government of Tamil Nadu is pleased host India's first National Workshop on Capacity Building for Combating Wildlife Crime and welcomes enforcement officers from across the country. 
"I congratulate TRAFFIC and its partners such as the Wildlife Crime Control Bureau, Tamil Nadu Forest Academy, Tamil Nadu Forest Department and WWF-India for taking this initiative and co-ordinating efforts in this important step towards curbing wildlife crime." 
shared his keen interest in wildlife protection and conservation. He said  that biodiversity in India is under severe threat from various sources including competition for natural resources, human-wildlife conflict and wildlife crime. 
"Wildlife crime has the potential seriously to impact the health and balance of our ecosystem," said Thiru Hans Raj Varma, IAS, Principal Secretary, Environment and Forests, Government of Tamil Nadu. 
"Law enforcement agencies such as the forest department, police, border security forces, Customs and others need to collaborate and co-ordinate their efforts to prevent this and this workshop provides an opportunity to help form relevant collaborations." 
Thiru Dr V K Melkani, Government of Tamil Nadu, said: "Wildlife Crime is an organized activity that needs an organized response.  Therefore, it is important for law enforcement officers to learn and use the latest tools and techniques available to fight wildlife crime to curb this growing menace."
In the three day long workshop, around 100 participants from 20 States representing the departments of forests, police and intelligence and 7 central agencies representing the Directorate of Revenue Intelligence, Indo Tibetan Border Forces, Border Security Forces, Customs, Railway Protection Force, Sastra Surakha Bal  and others will share knowledge and learn from experts about a variety of topics. These will include: identification of specimens in trade and strategies in combating crime; application of forensics and DNA techniques in wildlife crime investigations; standardizing forensic-based protocols for investigating wildlife crimes; intelligence collection and collation and methodologies of cyber tracking; techniques of investigation and prosecution to combat illegal wildlife trade; significance of various wildlife laws for improving prosecution in wildlife crimes; patrolling methods in the field for better surveillance; identifying core strengths and weaknesses of wildlife crime prosecution in India; improving investigation in wildlife cases; India's role in South Asia's fight against wildlife crimes, and more. 
Ms Tilotama Varma, an Indian Police Service Officer and Additional Director of the Wildlife Crime Control Bureau in New Delhi, who will be leading various technical sessions said: "The WCCB is a nodal agency for fighting wildlife crime in India. However it is important for it to secure co-operation and participation of other law enforcement agencies such as police, railway protection force, Customs, border security forces and others. This workshop is a significant platform for WCCB to share its experience and learning that has proved effective in nabbing poachers, conducting wildlife seizures and other aspects of wildlife law enforcement." 
Thiru Dr N. Krishnakumar, Government of Tamil Nadu, said: "India is fast losing some of its iconic species due to illegal trade in wildlife. With rising affluence, demand for species like tiger, elephant, leopard, pangolin or rhino for their parts and derivatives has increased and wildlife crime has progressively become an organized activity that affects these and many other species." 
Dr Shekhar Kumar Niraj, Head of TRAFFIC's India Office said: "The global wildlife poaching crisis has also engulfed India and this is an important initiative to provide the much needed co-ordination among key law enforcement agencies to combat wildlife crime, providing a forum to develop a national level vision and strategy for meaningful action."
---
Notes:
For more information, please contact Dr Shekhar Kumar Niraj, Head of TRAFFIC's India Office at Enable JavaScript to view protected content. or call 09868178927 or contact Dilpreet B. Chhabra, Senior Manager-Communications, TRAFFIC at Enable JavaScript to view protected content. or call 09899000472
---