Indonesian police smash one of country's largest illegal wildlife smuggling operations
Kuala Lumpur, Malaysia, 5th August 2008—Officers from the Indonesian National Police Criminal Investigation Bureau have raided the warehouse of a suspected illegal wildlife trader in the city of Palembang in South Sumatra. The raid uncovered over 14 tonnes of Malayan Pangolins Manis javanica, packed frozen ready for export, and led to the arrest of 14 suspects.
---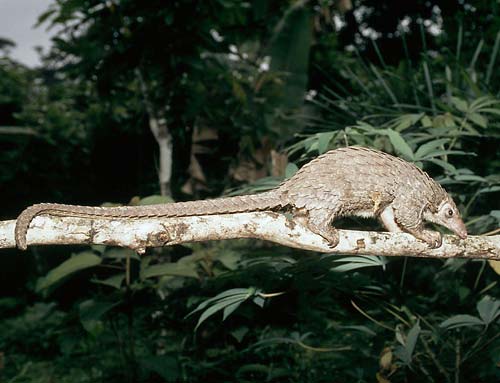 Pangolins are fully protected by Indonesia law, and are banned from international trade by the Convention on International Trade in Endangered Species of Wild Fauna and Flora (CITES). Yet, despite legal protection, illegal trade continues to push pangolins closer to the brink of extinction, with Indonesia being the main source of these animals, which are destined for China. In China, the skins and scales are used in traditional medicines and their meat is eaten.
This is the largest seizure of pangolins ever in Indonesia, and police are linking the arrests to two seizures earlier this year involving more than 23 tonnes of frozen pangolins by customs authorities in Vietnam and known to have originated from Indonesia.
The Wildlife Conservation Society (WCS) and TRAFFIC applaud the Indonesian authorities for taking such decisive action against the illegal wildlife trade. It is through action like this that the illegal trade can be stopped, and species threatened by it saved from extinction.  
TRAFFIC and WCS encourage the countries across the region to follow the example and take decisive action against illegal wildlife trade. 
"This is trans-border syndicate. We investigated the operation in Palembang after we had detected pangolin shipments from Kalimantan and Java. The Pangolins were packed and ready for export to China via seaports in Sumatra and Java" said Commissioner Didid Widjanardi of the Indonesian National Police - Criminal Investigation Bureau, who led the operation, in a press release issued by the Indonesian Police after the raid. 
"The police in Indonesia have done an excellent job and should be applauded." says Chris R. Shepherd, senior programme officer with TRAFFIC.  "We hope that these criminals are prosecuted to the full extent of the law." 
"I commend the Indonesian authorities on their laudable actions in this case. The illegal trade in wildlife is now a multi-million dollar international business. Endangered wildlife is being traded for food, medicines, ornaments, pets and more. This trade is already driving many species to the brink of extinction, If we don't act soon it will be too late" Said Elizabeth Bennett, Director of the Hunting and Wildlife Trade Program of the Wildlife Conservation Society. 
In early July 2008, governments, conservationists and researchers met in Singapore in a workshop jointly organized by TRAFFIC and Wildlife Reserves Singapore, which manages the Singapore Zoo, Night Safari and Jurong BirdPark, to discuss the plight of pangolins in Asia.  Increasing the rate of successful enforcement efforts was a key issue raised during this workshop. 
In March this year, authorities in Viet Nam seized 23 tonnes of pangolins en route from Indonesia to China. 
The Malayan or Sunda Pangolin Manis javanica is a ground-living mammal found in the tropical forests of South-east Asia. Pangolins are related to the anteaters, around 80 cm long, with a body covered in hard scales. 
---