23 tonnes of pangolins seized in a week
Cambridge, UK, 17th March 2008—On 6 March, Customs inspectors and enforcement officers seized more than 16 tonnes of pangolins at the port of Hai Phong, 100 km east of Hanoi, Viet Nam. It is the largest seizure of pangolins, or scaly anteaters, ever in Viet Nam. According to the Deutsche Press Agency, the pangolins were hidden in two shipping containers en route from Indonesia to China. 
---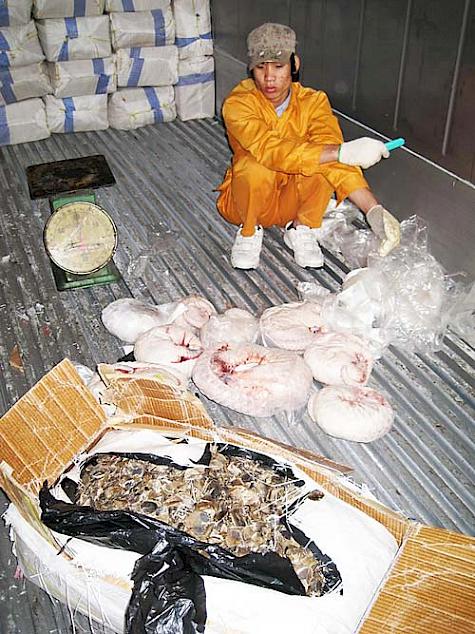 One week earlier, on 29 February, around 7 tonnes of pangolin carcases and scales were seized by customs at Hai Phong. On that occasion, at least 2,460 pangolin carcases and 900 kg of scales were recovered. 
Both shipments originated in Indonesia, where pangolins are completely protected by Indonesia's national law.  
According to the authorities, in both seizures the cargoes were found in containers registered as fresh fish belonging to the same import-export business located in the northern Vietnamese province of Quang Ninh. 
Viet Nam is known as an important transit point in the illegal wildlife trade network in Asia. 
TRAFFIC praised the Viet Nam Customs for its swift action and sound investigative work. 
"The seizure is a great step towards combating illegal wildlife trade in Viet Nam," Sulma Warne, Programme Co-ordinator, TRAFFIC Greater Mekong Programme

Pangolins are found throughout Southeast Asia and are protected under Vietnamese Law, which restricts any trade or transport. They are listed in Appendix II of CITES, the Convention on International Trade in Endangered Species of Wild Fauna and Flora. 
Since 2000 have been under a CITES "zero quota", meaning no commercial international trade is allowed. However, pangolins continue to be reported for sale as meat and traditional medicines in many Asian countries.
Customs officials acknowledged TRAFFIC's asistance in preparing them for the latest seizures, through earlier training in implementation of CITES regulations. 
"Since 2006 TRAFFIC has worked with the government on CITES training and implementation," said Warne. 
"Customs Officials are well informed of both the spectrum of wildlife trade in Viet Nam, and ways with which it can be illegally transported," adding "continued CITES training is important and should be organized regularly for Customs, Police and soldiers in Viet Nam, especially those who work at the border gates and ports."
No suspects have been detained, but investigations are currently on-going. 
---