Final call for pangolins
Singapore, 30th June 2008—The perilous situation facing pangolin populations in Asia comes under the spotlight this week during a meeting jointly organized by Wildlife Reserves Singapore (WRS) and TRAFFIC Southeast Asia. 
---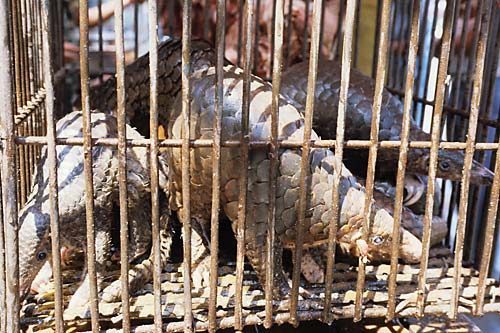 Pangolins or scaly-anteaters are caught for consumption of their meat and for their scales, which are used in traditional medicines. However, excessive poaching means numbers in the wild are dwindling rapidly.
Pangolins are the most numerous mammals found in confiscated illegal wildlife cargoes throughout Southeast Asia, despite a complete ban on their trade. They are regularly seized in Malaysia, Thailand and Viet Nam, the majority of shipments destined for China. The commonest pangolin species in trade is believed to be the Malayan Pangolin Manis javanica, sourced from Malaysia and Indonesia as populations elsewhere in their natural range have been decimated.
This week delegates from government agencies responsible for wildlife trade management, non-governmental organizations and scientists will discuss issues and challenges of pangolin trade enforcement in Asia, their conservation, ecology and biology as well as husbandry and management in zoological institutions. 
"This meeting is vital for the future survival of pangolins," said Azrina Abdullah, Director of TRAFFIC Southeast Asia.
In 2000, a complete ban on international pangolin trade was adopted by Parties to CITES (the Convention on International Trade in Endangered Species of Wild Fauna and Flora). 
Despite the trade ban and tough penalties for those caught smuggling, poaching continues unabated. In China, two pangolin smugglers received suspended death sentences in November 2007 and were fined a total of RMB3 million (USD400,000), whilst their accomplices received jail sentences ranging between 10 years and life. 
It is now or never for pangolins: the poaching simply has to stop
Azrina Abdullah, Director of TRAFFIC in Southeast Asia
In February and March this year, a staggering 23 tonnes of pangolin carcasses and scales, the remains of approximately 8,000 animals, were seized in Hai Phong, Viet Nam, in a single week. Earlier this month, an Indonesian fisherman was sentenced to 32 months in jail by a Malaysian court after pleading guilty to illegally possessing almost 200 kg of pangolin scales plus other wildlife parts. 
Workshop participants from China, Taiwan, Malaysia, the Philippines, Viet Nam, Cambodia, Indonesia, Brunei, Lao PDR and Singapore will examine how to combat the illegal trade in pangolins and address the detrimental impact on wild populations, and will develop an action plan to assist relevant enforcement agencies in prioritizing and focusing their efforts to halt the illegal pangolin trade. 
"Our main hope is to catalyse the region into seriously conserving one of the most unique species of biodiversity which we call our own, and to ensure that this cascades into actionable initiatives in the pangolin's range countries," said Fanny Lai, Group CEO, Wildlife Reserves Singapore. 
To learn more about pangolins, download four stunning information panels about pangolins here. The findings and recommendations from the workshop will be circulated to the Convention on International Trade in Endangered Species of Wild Fauna and Flora (CITES) Parties, International Criminal Police Organization (ICPO)-Interpol, World Customs Organisation (WCO) and to national focal points of the ASEAN Wildlife Enforcement Network (ASEAN-WEN) to form a coherent approach to information/ intelligence sharing at a regional level.
Previous collaboration between WRS and TRAFFIC Southeast Asia has included the launch of an identification guide to Southeast Asian turtles (now available for purchase, following the instructions here), a reptile identification workshop held in October 2007 and support for a TRAFFIC report into the trade in Orang-utans and Gibbons in Kalimantan, Indonesia.
---