Olympic Green Guide launched
Beijing, China, 15th August 2008—with all eyes on Beijing and China's much-touted Green Olympics, Immersion Guides, in co-operation with TRAFFIC and Shan Shui, today launched the Beijing Green Guide, a guide to sustainable consumer practices in Beijing. 
---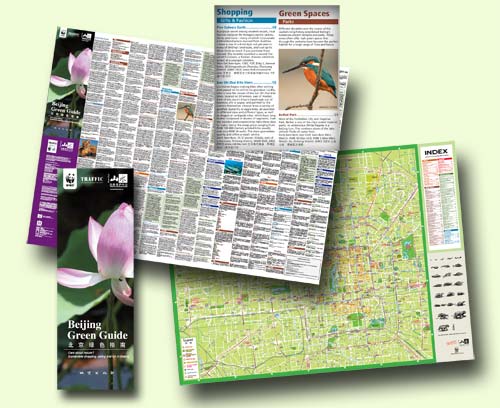 The Green Guide provides guidance on how people living in or visiting Beijing can minimise their impact on the environment: what species to avoid eating, where to find sustainably sourced souvenirs, sightseeing with a green slant, and a guide to the most popular eco-friendly hotels, bars, and restaurants around the city. There are also sections covering Beijing's native flora and fauna and what low-impact mass transportation options are available. The English and Chinese bilingual guide features a complete Beijing city map on one side and green tips on the other and is printed on FSC (Forest Stewardship Council certified) paper. 
Although China is one of the most biologically diverse places in the world, with the number of wild plants and animal species exceeding the total found in North America or Europe, it remains a challenging place for enforcement of environmental protection laws. However, as incomes grow in tandem with environmental degradation, more and more Chinese are becoming concerned about how China's rapid development is affecting their natural heritage, and what they can do about it: the Green Guide aims to answer just this point. 
 
---