Almost a fifth of timber imported into EU illegal—WWF
Brussels, Belgium, 23rd July 2008—Almost one-fifth of timber imported into the European Union (EU) in 2006 came from illegal or suspected illegal sources, according to a new report, Illegal wood for the European market, by TRAFFIC's programme partner, WWF. 
---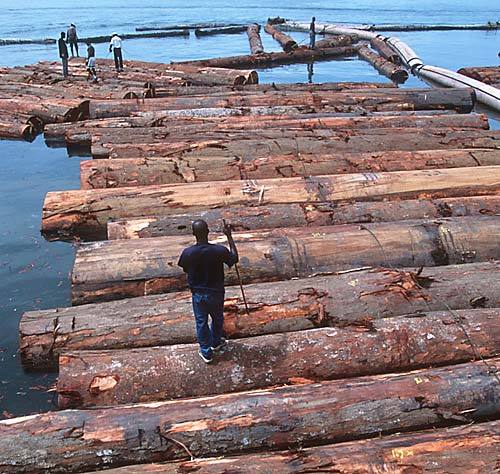 Estimated illegal timber imports amounted to between 26.5 and 31 million m³ (16–19 per cent of all timber imports), with the biggest suppliers Russia (estimated 10.4 million m³), Indonesia (4.2 million m³) and China (3.7 million m³). 
The major importers of illegal timber were Finland, UK, Germany and Italy. 
"Illegal logging and timber trade not only undermine conservation, but also result in reduced profitability of legal trade, loss of foreign revenue and currency exchange, uncollected forest-related taxes and depleted forest resources and services," said Chen Hin Keong, TRAFFIC's Global Forest Trade Programme Leader. 
In 2003, the EU adopted the Forest Law Enforcement, Governance and Trade (FLEGT) action plan to combat illegal logging and the associated trade. 
"EU FLEGT is an important step towards combating the illegal timber trade, but additional measures are needed to prevent such timber from entering the EU common market," said Chen. 
Currently EU FLEGT only covers timber imported from countries with whom the EU has signed Voluntary Partnership Agreements (VPAs) under the FLEGT. There are ongoing VPA negotiations with Ghana, Cameroon, Republic of Congo, Indonesia and Malaysia. 
Soon the European Commission is expected to propose legislation to address the issue of illegal timber arriving from countries not covered by VPAs. This includes both China and the Russian Federation, two of the largest exporters of timber into the EU. 
TRAFFIC supports the EU FLEGT licensing system through its work in West and Central Africa and Southeast Asia on the development of criteria and guidelines for the definition in support of WWF's Global Forest and Trade Network, and verification of legality in the timber trade, from source to point of export. 
---