---
Notes:
The 19th Meeting of the Conference of the Parties to CITES is due to be held in Panama City in November 2022 (CoP19)
Scheele, B.C., Pasmans, F., Skerratt, L.F., Berger, L., Martel, A.N., Beukema, W., Acevedo, A.A., Burrowes, P.A., Carvalho, T., Catenazzi, A. & De la Riva, I. (2019). Amphibian fungal panzootic causes catastrophic and ongoing loss of biodiversity. Science 363(6434), 1459-1463.
The research was made possible by the funding contributions from Pro Natura Foundation Japan's 31st Pro Natura Fund and WWF Japan.
[report updated: 19.11.2021]
---
About Pro Natura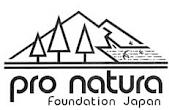 Pro Natura Foundation Japan contributes to the conservation of the global environment and biodiversity by promoting support for activities that contribute to the conservation of the natural environment in Japan and overseas, and providing the necessary subsidies for the progress of research and research that form the basis of these activities
WWF

WWF is an independent conservation organization, with over 30 million supporters and a global network active in over 100 countries. WWF's mission is to stop the degradation of the Earth's natural environment and to build a future in which humans live in harmony with nature, by conserving the world's biological diversity, ensuring that the use of renewable natural resources is sustainable, and promoting the reduction of pollution and wasteful consumption. Visit www.panda.org/news for the latest news and media resources and follow us on Twitter @WWF_media.