UK tortoise trader jailed for eight months
Cambridge, UK, 18th May 2009—An illegal trader of tortoises in the UK has been jailed for eight months after he pleaded guilty to eight offences contrary to the Control of Trade in Endangered Species (Enforcement) Regulations 1997.
---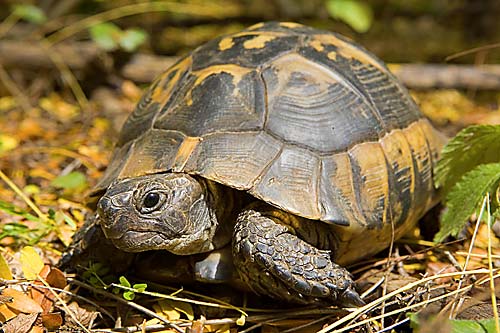 David Neville Johnson, aged 21, was charged with offences related to the prohibited sale of 191 Hermann's Testudo hermanni and seven Spur-thighed Tortoises T. graeca, making false statements to obtain permits and the prohibited purchase of 200 Hermann's tortoises.
Heavy collection for the pet trade has depleted populations of these two tortoise species. Serious illegal trade persists, threatening remaining wild populations in Europe and beyond. Both species are listed in Appendix II of CITES (the Convention on International Trade in Endangered Species of Wild Fauna and Flora) and in Annex A of the European Union's Wildlife Trade Regulations, which strictly controls their international trade. 
Detective Inspector Brian Stuart, Head of the National Wildlife Crime Unit (NWCU), one of the UK agencies involved in the investigation commented: "The sentence imposed upon Johnson highlights how serious the courts now take wildlife crime and the lack of tolerance to these activities. 
"It will hopefully serve as a deterrent to those who flout the rules and regulations in order to make money illegitimately." 
Summing up, Judge Onions, who presided over the case, praised the way the case had been presented and told Johnson that he should consider himself lucky because without mitigation relating to his personal circumstances, he would have been going to prison for 15 months. 
Judge Onions also noted "These are not just paperwork offences—it is deliberate offending." 
And addressing Johnson he said: "It was your job to be concerned about conservation."
Johnson became the first person under UK law to have a three year serious crime prevention order imposed for wildlife offences, and has been banned from possessing certain species for this time. 
"The officers involved in this case are to be congratulated for an outcome that sends out a strong message to those who illegally deal in wildlife for profit: you will be caught and your offences taken seriously," commented Steven Broad, Executive Director of TRAFFIC. 
TRAFFIC has an officer seconded to the NWCU and provides support and assistance on wildlife trade matters.
---