TRAFFIC teams up with Earth Hour to promote responsible consumption and a sustainable lifestyle
Shanghai, China, 23rd March 2016—Saturday 19th March 2016 marked the tenth birthday of the WWF-initiated Earth Hour event, when individuals, communities, organizations, landmarks and even cities across the world turn off their lights for one hour to demonstrate their concern for and help raise awareness about pressing environmental concerns.
---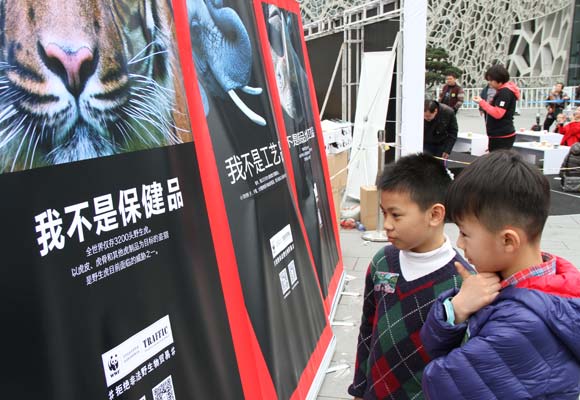 This year, to mark the occasion, TRAFFIC teamed up with WWF's Shanghai Office and Shanghai Natural Museum to host a special 10th anniversary event to promote the theme of encouraging responsible consumption and rejecting illegal wildlife products as part of a sustainable lifestyle. 
During the day, a mural featuring "No illegal wildlife trade—draw a colourful world" attracted many local families, who pledged their zero tolerance for illegal wildlife trade and coloured in threatened animal drawings to outline their vision of a beautiful and harmonious planet. 
At the museum, four handicraftsman demonstrated the traditional Chinese arts of silk weaving, bamboo weaving, nut carving and paper making, encouraging the public to embrace their cultural value and skills by using environmentally friendly and sustainable materials rather than ivory or other threatened species' products.
 
During the Earth Hour's "Wonderful Biodiversity Night", representatives from the State Forestry Administration, China Green Foundation and the Shanghai Government, together with famous wildlife photographer and environmentalist Xi Zhinong shared stories and photographs to help raise conservation awareness and encourage the public to take action towards reducing the demand for illegal wildlife products. 
"In Africa around 30,000 African Elephants and more than 1,000 rhinos have been poached for their ivory and rhino horn each year in recent times," said Xu Ling, Senior Project Manager with TRAFFIC. "It's time to take action to address wildlife poaching, trafficking and demand: the future of wildlife is in our hands."
To echo the Shanghai Earth Hour events, TRAFFIC also took part in a "Beautiful Africa" photography exhibition in the Enjoy-Art Museum in Beijing's 798 art district, which was principally organized by the Embassies of South Africa, Namibia and Kenya. TRAFFIC's targeted communication materials on "Refusing illegal wildlife products" were distributed to those visiting the Museum.
TRAFFIC's engagement in WWF's Earth Hour 2016 was generously supported by GIZ on behalf of the German Federal Ministry for Economic Cooperation and Development (BMZ) and the German Federal Ministry for Environment, Nature Conservation, Building and Nuclear Safety (BMUB).
---