TRAFFIC launches online guide to fisheries trade data
Cape Town, South Africa, 25th October 2010—A new website aimed at guiding data analysts through the process of sourcing and processing data on global fisheries trade has been launched today at: http://www.fisheries-trade-data.org 
---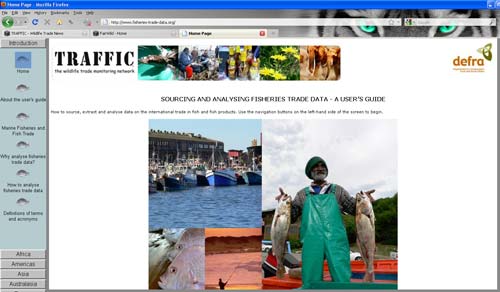 The website, developed thanks to funding from the UK Government's Department for Food and Rural Affairs (Defra), is intended to help fisheries and Customs officers and other officials tasked with regulating the international trade in fish and fish products. 
The guide links to 24 country and 6 meta-data websites where fisheries trade data can be sourced, and includes step-by step guidance on navigating each of these sites, including advice on the sourcing and extraction of trade data. 
It also provides information on how data analysis can be used by compliance and management officials in their efforts to tackle Illegal, Unreported and Unregulated (IUU) fishing. For example, analysis can identify discrepancies between catch and trade volumes of fish, export and import figures for fish products, the countries engaged in trading particular products and even the trade routes used for IUU fish. 
Trade data can also be used to alert fisheries management agencies to possible illegal activities and can provide a direct point of intervention in fisheries management systems, for instance through the use of trade measures.
"Given the extent to which fisheries products are traded internationally, knowledge of the trade and the market for those products is almost a prerequisite to good management," says Markus Burgener, TRAFFIC's Senior Programme Officer, who compiled the guide.
---