TRAFFIC deliver a national TWIX workshop for Uganda's law enforcement officials
Entebbe, Uganda 27th October 2021 – TRAFFIC continues to strengthen collaboration between law enforcement officials in East African countries by convening a national workshop in Uganda on the Eastern Africa Trade in Wildlife Information eXchange (Eastern Africa-TWIX).
---
The dedicated tool, which includes a mailing list and website, was developed to facilitate the exchange of information and promote cooperation between law enforcement agencies on the frontline in combating illegal wildlife trade.
To dismantle wildlife trafficking chains and smuggling networks wildlife agencies need to work together, therefore let us use the Eastern Africa-TWIX platform to share information on the mailing list, learn from useful resources available on the website and provide seizure data for analyzing trends and trade routes.''
Mr Joward Baluku, on behalf of the Commissioner of Wildlife for the Ministry of Tourism Wildlife and Antiquities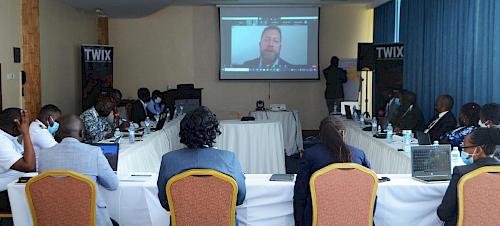 Eighteen government officials from Uganda's wildlife law enforcement agencies participated in the event. The officials represented government agencies, namely the Ministry of Tourism Wildlife and Antiquities, Uganda Wildlife Authority, National Forestry Authority, Buganda Road Court (Wildlife Court), the Office of the Director of Public Prosecutions, Financial Intelligence Authority, Customs, and Interpol. Representatives from TRAFFIC, IUCN, and EAC joined virtually via zoom during the opening session.
During the workshop, a TWIX user from Uganda Wildlife Authority (working at Entebbe International Airport) shared a firsthand account of the difficulties in correctly identifying species – just one of the challenges officers face while in operations. The participant explained how beneficial identification guides available on Eastern Africa-TWIX are for them to confidently undertake their role.
This national workshop in Uganda was a continuation of the past two national workshops held in Tanzania and Kenya. The participating officers now have practical knowledge about using all the components of the Eastern Africa-TWIX. They promised to share the knowledge with colleagues, promote TWIX within their agencies, and share information via mailing list and accessing the website.
---
Notes:
The event was generously supported by funds from the USAID-funded Conserving Natural Capital and Enhancing Collaborative Management of Transboundary Resources in East Africa (CONNECT).
---
About USAID

The United States Agency for International Development (USAID) is responsible for the majority of overseas development assistance from the United States Government and works to end extreme poverty and promote resilient, democratic societies while advancing security and prosperity for America and the world. www.usaid.gov/