Thai Customs seize four suitcases filled with ivory
Bangkok, Thailand, 27th September 2010—In yet another important ivory seizure at Suvarnabhumi International Airport this year, Customs officers have apprehended 90 kilogrammes of ivory from a passenger attempting to smuggle it into the country packed inside four large pieces of luggage.
---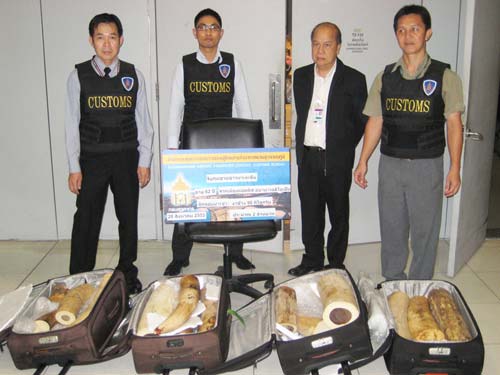 The 62-year-old Malaysian national was stopped at International Arrivals on the 28th August after Suvarnabhumi Airport Passenger Control Customs Bureau officers found 16 pieces of cut ivory upon searching the man's bags.
The suspect had arrived on an Ethiopian Airlines flight from Addis Ababa to Bangkok. The ivory was confiscated and the case is now under review by the Customs Department.
The latest seizure underlines the important role Customs officers play in the war on illegal wildlife trade.
The Thai Royal Customs has been at the helm of a string of headline-grabbing ivory seizures since late 2008. The department also made three huge seizures this year, netting two tonnes of ivory in February, 1.4 tonnes in April and close to 800 kilogrammes in July; all at the Suvarnabhumi International Airport.
"The Thai Royal Customs is committed to taking strong measures to ensure that proper legal import and export procedures under the Convention on International Trade in Endangered Species of Fauna and Flora is adhered to at every check-point across the country especially Suvarnabhumi Airport," said Mr. Ekalarp Rattanarut, Director of Suvarnabhumi Airport Passenger Control Customs Bureau.
Although Ethiopia has made strides addressing illegal trade in ivory in recent years, its airport in Addis Ababa remains a major transport hub through which contraband ivory continues to move. 
China, for example, made 139 ivory seizures in 2009 alone from Chinese nationals coming from Addis Ababa on Ethiopian Airways flights.
Thailand, together with Nigeria and the Democratic Republic of Congo, were identified as the three countries most heavily implicated in the global illicit ivory trade in the most recent analysis of the Elephant Trade Information System (ETIS), the world's largest database of elephant product seizure records. 
ETIS is managed by TRAFFIC on behalf of Parties to the Convention on International Trade in Endangered Species of Wild Fauna and Flora (CITES). 
"The Customs officers responsible for this ivory seizure in Thailand are to be commended, although the fact this trade continues illustrates that Thailand's domestic ivory market remains a serious issue," said Chris R. Shepherd, Deputy Regional Director of TRAFFIC Southeast Asia. 
"Unless Thailand starts making ivory seizures in the marketplace, we fear its ivory trade will continue."
"Airlines also need to be increasingly aware and vigilant in order to ensure they are not used and therefore implicated in the global ivory trade," he added.
---